Here's Everything Analysts Think Is Wrong With the Bank of England's Bond-Buying
The stakes are high and so is the confusion.
By and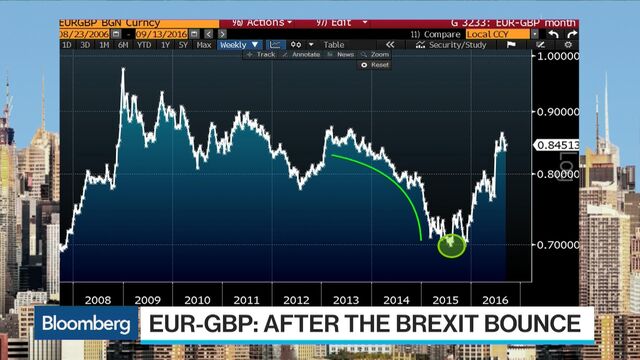 Analysts this week got their first peek at the list of corporate bonds that the Bank of England plans to buy in its attempts to stimulate the U.K. economy post-Brexit referendum.
They weren't all impressed.
Instead, details of the central bank's shopping list prompted a flurry of bewilderment and in some cases outright snark from credit strategists attempting to understand the reasoning behind what the BOE plans to buy in its Corporate Bond Purchase Scheme (CBPS) due to start later this month.

"Our initial impression of the list of bonds eligible is confusion," wrote Zoso Davies at Barclays Plc, who also labelled the BOE's plan an "awkward approach."

The grumbling highlights the continued sway of central banks in markets with bonds-eligible for purchase often outperforming their non-eligible counterparts. That means the stakes are high for analysts and investors as correctly predicting which bonds central banks are likely to buy can be a lucrative activity.
Spreads on British bonds — or the extra compensation investors demand to hold such securities — had already drifted towards record lows on expectations that the bond-buying program would be announced. Spreads on Bank of America's sterling-denominated investment-grade bond index had fallen 14 basis points between Aug. 4 and the day before the shopping list was published, according to CreditSights Inc., with bonds expected to be bought by the BOE accounting for more than 60 percent of the decline.
Meanwhile, similar corporate bond-buying by the European Central Bank, known as the corporate securities purchase programme (CSPP), has also produced a mark tightening in credit risk premiums especially for CSPP-eligible debt.
"The resolution to these issues is not simply of academic interest," said Matt King, credit strategist at Citigroup Inc. "Though deciphering the arcana of the CBPS may not be most investors' idea of fun, if the 23 percent outperformance of CSPP eligible bonds relative to the rest of the euro-investment grade market since March is any guide, it's not something they can afford to miss."
1. What does "material" mean to you?
Given the BOE's attempts to fan the British economy through lower borrowing costs, bonds selected for buying must "make a material contribution to economic activity in the U.K.," according to its announcement. But the list of things to buy includes Spain's biggest power company as well as Apple Inc., amongst other apparent oddballs.

Here's King at Citi again: 
"In most cases, the 'significant contribution to the U.K. economy' criterion has been applied in an intelligible fashion. Thus, Orange, which completed its sale of EE at the beginning of the year, is out, while multinationals Verizon, AT&T and Apple have a sufficient presence in the U.K. to warrant inclusion. But try as we might, we've yet to hear a convincing explanation for the exclusion of RWE, GKN, Telefonica and Iberdrola. All four have a significant U.K. presence, with thousands of U.K. employees. We wouldn't be surprised to see some of these issuers making the list in future."
And Davies at Barclays:
"... The inclusion of issuers such as AT&T suggests a loose interpretation of 'material contribution to the U.K. economy,' while other companies such as WPPLN which are more generally recognized as having a presence in the U.K. have been omitted. "
And here are HSBC Holdings Plc analysts led by Jamie Stuttard:
"There is a big list of issuers missing from the initial eligible list ... Senior unsecured from U.K. issuers remains a bit of a mystery. Why is it, for example, that an investment grade-rated U.K. supermarket issuer with thousands of employees in the U.K., conventional senior unsecured bullet maturity issues above 100 million pounds in amount outstanding with more than one month of seasoning is not on the list? We do not have the answers to this question yet, and it is quite possible that more issuers will be added to the eligibility list in due course."
2. Standard by any other name?
Bonds with flavors other than plain vanilla are also excluded, according to the BOE. That means debt "with complex or non-standard structures"  will not be eligible — including convertible and exchangeable bonds. Yet some bonds that consist of sliced-and-diced cash flows, known as whole business securitizations, appear to have made the cut.

From Davies at Barclays:
"We note that several whole business securitizations have been included on the list such as THAMES and AWLN, but others such as HTHROW have been excluded. In any case, the inclusion of WBS appears to violate the 'complex or non-standard structures' guidance."
3. All bonds are created equal but some are more equal than others
Perhaps most confusing is the fact that some bonds from the same company are included in the eligibility list, while others aren't.

From King at Citi again:
"... Bonds from the same issuer with a similar structure have been accorded different treatment. AT&T, which has three bonds that are on the list, also has two bonds that didn't make it, despite the lack of an obvious distinguishing factor. The same goes for IBM: why should its Dec. 22 bond have made the cut when its Dec. 20 bond didn't? Suggestions on a postcard, please."
4. Rules on ratings
Eligible debt must come with an investment-grade rating from at least one major bond grader and is also "subject to the Bank's assessment process." That creates some flexibility that has translated into consternation for analysts.
From Citi's King:
"Morrisons' bonds do not appear, despite the fact that they appear to contain no 'non-standard' features and the company clearly fulfills the 'material contribution' criteria. The bonds have a Baa3 rating from Moody's, so they would seem not to fall foul of the requirement that bonds be 'rated investment grade by at least one major rating agency.' Yet, given that this rule is 'subject to the Bank's assessment process' and there are, as far as we can discern, no other examples of bonds that have only one low investment-grade (BBB- or equivalent) rating that have been deemed eligible, we wonder whether the rating requirements are in fact, slightly more stringent than the wording implies."
5. They're on 'double secret probation'
Such discrepancies have led some analysts to wonder whether "unofficial rules" might be in play as the BOE attempts to insulate itself from unwanted media attention and reputational risk.  
Here's Davies at Barclays: 
"One factor that did stand out from our initial screen was that bonds issued by entities based in known tax shelters such as Jersey, Guernsey, and the Cayman Islands appear to be excluded. While this makes sense when considering the reputational risk associated with asset purchases of issuers with contentious tax structures, we note that this is not a rule listed in the Market Notice. If it is the case that one or more soft-rules are in force, that would risk giving investors the impression that eligibility is a capricious process and undermine the credibility of the CBPS as a whole."
And HSBC again:
"There is potentially heightened media interest and some sensitivity surrounding the BOE's activity in non-UK issuers, so we consider the parameters and bonds announced today quite advanced. That means there should not be too many additional issues and issuers announced from this category."
And Barnaby Martin at Bank of America Merrill Lynch:
"... We think the BOE has had to apply subjectivity to their eligible list. With Brexit a politically charged topic, Carney was pushed at last week's Treasury Select Committee to explain how the BOE would arrive at their list of eligible bonds. We sense that this has generally steered the BOE towards credits that are viewed as lower risk. Indeed, the Bank states in the Market Notice that 'Eligibility decisions will be made by our risk management staff, taking into account a number of different factors' in addition to 'The Bank will reserve the right in its sole discretion to deem any security ineligible for any reason…'"
To see the Bank of England's shopping list for yourself, click here.
Before it's here, it's on the Bloomberg Terminal.
LEARN MORE