Half-Taiwanese Woman Poised to Lead Japan's Opposition
By and
Renho becomes first female head of major party since 1990s

Victory comes despite criticism over nationality flip-flop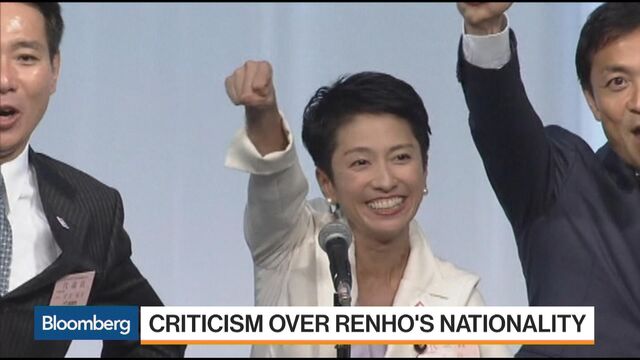 A half-Taiwanese former newscaster won a landslide victory in an election for the leadership of Japan's main opposition Democratic Party, despite criticism over a last-minute revelation that she had dual nationality.
Victory in Thursday's party leadership election makes Renho, who goes by only one name, the first woman to lead a major Japanese party since the 1990s. The 48-year-old mother of twins, who once served as administrative reform minister, beat former foreign minister Seiji Maehara, 54, and Yuichiro Tamaki, 47, a former finance ministry bureaucrat.
Renho received 503 of a total 849 points in the election, calculated from the weighted votes of lawmakers and other party members, compared with 230 for Maehara and 116 for Tamaki.
Putting a woman of mixed parentage at the helm helps differentiate the Democrats from Prime Minister Shinzo Abe's ruling Liberal Democratic Party, which has never had a female leader. Her party, known as DP, failed to offer a clear alternative in July's upper house election and lost seats. Polls put the party's support rate at less than 10 percent, compared with about 40 percent for the LDP.
"I want to stand at the front of the party and rebuild it without fail into one that voters will choose," she told the party at a Tokyo hotel after the results were announced. "What we must do now is face up to the massive ruling party."
She told reporters earlier this week that she ran to become the first woman leader of the party. "Even that in itself opens up new possibilities for women," she said, adding that she also wanted to increase the number of female lawmakers.
Nationality Questions
Her victory follows on the heels of Yuriko Koike becoming the first female governor of Tokyo and Tomomi Inada being appointed Japan's second woman defense minister. But female representation in Japan's parliament remains far lower than in most developed nations at 157th in the world.
While surveys have shown Renho to be the most popular of the three candidates among the public, she has run into trouble over her nationality. Born in Tokyo to a Taiwanese father and a Japanese mother, she said early in her campaign that she had renounced her Taiwanese nationality when she obtained Japanese citizenship as a teenager. 
This week, Renho acknowledged that her Taiwanese nationality had remained valid. Dual nationality isn't permitted in Japan and she apologized for what she said was a mistake.
'Undesirable Suspicions'
"Although Taiwan is friendly toward Japan, it is in conflict with the Japanese standpoint regarding some issues, for instance, its ownership claims on the Senkaku Islands," the conservative Yomiuri newspaper said in an editorial, using the Japanese name for disputed islands known as Diaoyu in China. "If Renho retains her Taiwan citizenship, she could become the target of undesirable suspicions regarding her relations with Taiwan."
Renho drew plaudits while serving on a government cost-cutting panel for grilling bureaucrats over what were seen as wasteful projects. She was also criticized for suggesting Japan should be content with the world's second-best supercomputer, rather than plowing more money into research.
Renho said this week that Japan must tackle its most urgent problem -- its falling population -- by sharing its wealth with the next generation. Spending on education and social welfare would ensure that young people become taxpayers, she said.
"What do they need right now? Just some time in the news," Steven Reed, a professor of political science at Chuo University in Tokyo said of the Democrats. "She should be able to provide that."
An opinion poll published by the Yomiuri newspaper Tuesday found that Renho was seen by 47 percent of respondents as the most appropriate person to lead the party, compared with 31 percent for Maehara and 5 percent for the relatively unknown Tamaki. The survey was conducted before Renho's disclosure about her nationality.
— With assistance by Takashi Hirokawa
Before it's here, it's on the Bloomberg Terminal.
LEARN MORE