European Stocks Little Changed as Luxury Retreat Offsets Miners
By and
Glencore leads miners higher as most base metals advance

Hermes falls most since 2010 after scrapping sales target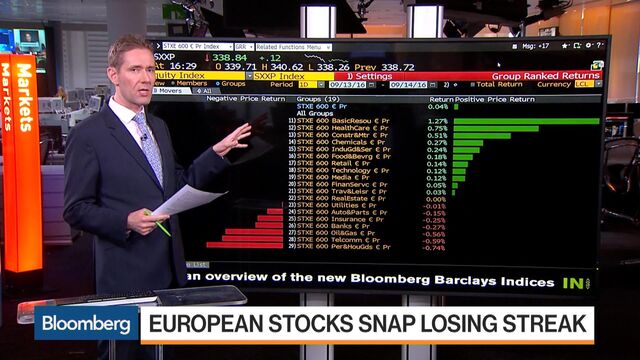 European stocks were little changed after their biggest four-day loss in two months, as declines in luxury-goods retailers offset gains in miners.
Cie. Financiere Richemont SA fell 3.9 percent after saying first-half profit may drop about 45 percent. Hermes International SCA posted its biggest loss since 2010 after abandoning its annual sales-growth target. Glencore Plc rose 2.5 percent, pushing commodity producers ahead, as base metals advanced. Bayer AG helped a gauge of chemical producers higher after agreeing to buy Monsanto Co. in a $66 billion deal.
The Stoxx Europe 600 Index slipped 0.1 percent to 338.42 at the close of trading. It pared gains of as much as 0.6 percent earlier after a Bloomberg Politics poll showed Donald Trump leads Hillary Clinton by 5 percentage points in Ohio -- a critical swing state that has backed the winning candidate for president in every election since 1964. The equity gauge got a fillip later from better-than-expected data on oil inventories, before giving up gains in late afternoon trading.
"It has been a zero conviction market, in line with fragile global sentiment," said Michael Ingram, a strategist at BGC Partners in London "There is a lot of noise right now, mostly the result of central-bank policy uncertainty. It seems that the view we need higher rates is gaining some traction, but at the same time we still have expectations of further easing in some countries. It's difficult to achieve a coordinated response. This policy disarray is one source of the volatility we are seeing."

Worry that central banks are less willing to use monetary tools to stimulate growth sent equities and crude prices tumbling in recent sessions. Economic data have also been missing forecasts this month, exacerbating investor concern. ECB President Mario Draghi last week downplayed the need for more stimulus, while saying officials will study ways to make the central bank's asset-buying program more efficient.
Traders are also speculating on whether the Federal Reserve will raise rates at next week's meeting, after officials gave mixed views on prospects for higher borrowing costs. The chances of a hike in September stand at 22 percent. December remains the first month with at least even odds of an increase.
Among other stocks moving on corporate news today: