Europe and Farage Find Rare Agreement in Pushing May on Brexit
By and
Commission, Farage say Article 50 should be invoked early 2017

Moscovici warns delay would spell uncertainty for economy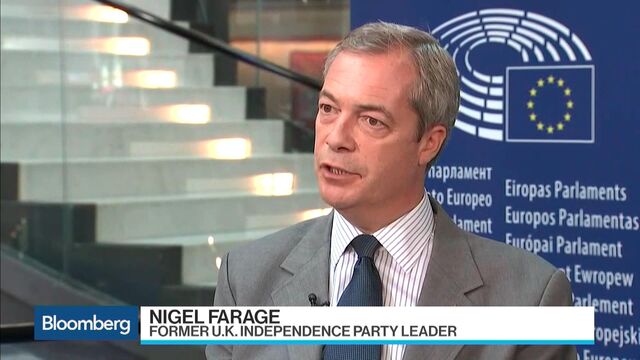 U.K. Prime Minister Theresa May came under fresh pressure from Europe and at home to open formal Brexit talks in early 2017.
In separate interviews with Bloomberg Television in Strasbourg on Wednesday, European Economic Affairs Commissioner Pierre Moscovici and former U.K. Independence Party Leader Nigel Farage both pressed May to trigger Article 50 of the Lisbon Treaty early next year.
"It's important that the Article 50, which will start the negotiations, is raised by the British government as soon as possible," Moscovici said. "The end of the year, very beginning of 2017 would be the optimal moment to start the negotiations."
Farage said he hoped for a January decision, declaring "we have voted to leave this political union."
"I don't mind the government spending a few months, getting its ducks in a row, getting ready," he said. "I think what you'll see, I hope what you'll see is Article 50 triggered, probably in January."
Economic Uncertainty
Other than to say she won't start negotiations this year, May has declined to give further clarity on her timing plans. European officials worry procrastination will undermine their economies, while pro-Brexit campaigners at home are concerned she may drag her feet on delivering on the result of the June referendum.
Moscovici said a drawn-out process risked fanning uncertainty and chilling investment. He announced the creation of a task force to oversee operational details of the negotiations with the U.K.
"Up to now there are no consequences from Brexit economically but if it lasts too long I'm afraid that investors will start being too careful and start to wonder," he said.
French government spokesman Stephane Le Foll said in Paris that France also wants the talks to start by early 2017.
Sign up to receive the Brexit Bulletin, a daily briefing on the biggest news related to Britain's departure from the EU.