EU's Juncker Says Post-Brexit Vote Period 'Crucial' for Europe
By
Commission chief cites focus on security, defense, investment

EU needs to listen 'more intensely' to its citizens: Juncker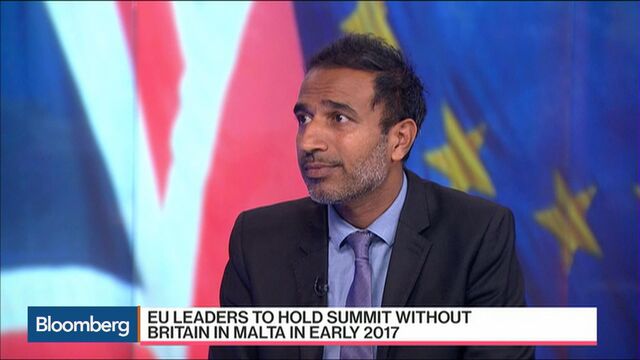 European Commission President Jean-Claude Juncker said that the coming year will be vital for the European Union as it seeks to remain relevant following the U.K. decision to quit the 28-nation bloc.
Addressing European lawmakers in Strasbourg, France, in his annual "state of the Union" speech, Juncker urged member states to stop bickering among themselves and "focus on the areas in which Europe can give true added value." The EU needs to listen "more intensely" to its 500 million citizens, he said.
"The European Union as such is not at risk" following the Brexit vote, Juncker said in his speech Wednesday. "The next 12 months are the crucial time to deliver a better Europe."
He proposed a doubling of the EU investment fund to spur economic growth, fresh measures to tackle youth unemployment and cited an EU initiative to eliminate roaming charges on cell phones that he said will be proposed next week.
Juncker stressed a need to do away with old divisions, and appeared to reached out to eastern EU states that have refused to accept refugee quotes, saying that solidarity on refugees "must be voluntary."
He proposed a common European strategy for Syria and a greater emphasis on acting together to tackle terrorism, saying that Europe's tradition of tolerance mustn't undermine efforts to bolster security of the EU's borders.
Juncker also proposed a European military headquarters, efforts to "work towards a common military force" in coordination with NATO and the creation of a European defense fund to stimulate research.
"Europe should take a stronger point of view in terms of our defense," he said. "We can no longer depend on the singular power of individual member states."
Sign up to receive the Brexit Bulletin, a daily briefing on the biggest news related to Britain's departure from the EU.
Before it's here, it's on the Bloomberg Terminal.
LEARN MORE