Ikea on EU Radar as Vestager Looks Beyond Apple's Tax Billions
By and
EU examining allegations by Green lawmakers targeting Ikea

Any probe could relieve criticism that EU is aiming at U.S.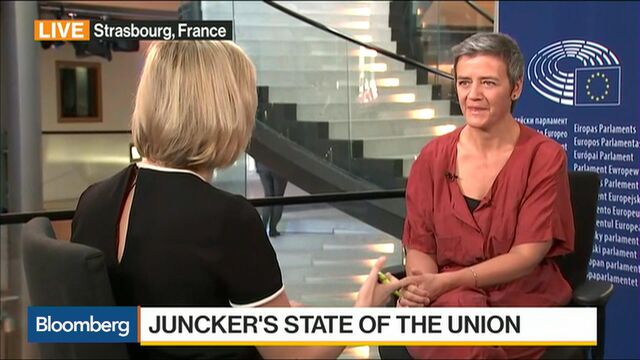 European Union regulators who slapped Apple Inc. with a 13 billion-euro ($14.6 billion) tax bill are examining allegations that Ikea dodged at least 1 billion euros in taxes over the past six years.
Competition Commissioner Margrethe Vestager, under fire in some quarters for targeting mainly U.S. firms in a clampdown on corporate tax avoidance, said EU officials are vetting claims by Green lawmakers that the world's biggest furniture retailer uses unfair loopholes to avoid paying taxes.

"We have received the documentation that the Greens have made and we are going through it but we have nothing to comment as the case stands right now," Vestager said Wednesday in Bloomberg TV interview, referring to the report published by the Greens/EFA group in the European Parliament earlier this year. "It is very, very early days."
Ikea representatives didn't immediately respond to a request for comment. At a European Parliament hearing in March, Ikea said its tax affairs are in line with international rules, echoing comments by other firms targeted by EU probes, including McDonald's Corp. and Apple.
The holding company of IKEA Group, INGKA Holding B.V., as well as a majority of the group functions and management, are based in the Netherlands.
Responding to the Greens' report in February, IKEA Group said it paid about 822 million euros in corporate income tax globally "which equals an effective corporate income tax rate of just below 20 percent."
Vestager has been criticized for targeting American technology companies in a rash of tax probes. The European Commission said last month Ireland illegally slashed Apple's tax bill. Amazon.com Inc. is awaiting a decision on its taxes in Luxembourg.
Vestager told Bloomberg TV that the EU has not been targeting just U.S. companies with its tax probes, highlighting that European companies such as BP Plc. have been also forced to pay back taxes. The Danish politician said the decision ordering Apple to pay back taxes shows EU is "definitely open for business, but not for tax evasion."