ECB's Knot Sees Boost From QE Running to 2020 With Reinvestment
By
Dutch policy maker makes remarks at conference in Vienna

Bond-buying currently scheduled to run to at least March 2017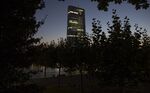 The stimulus effect from the European Central Bank's quantitative easing will be maintained until the end of 2020 as maturing debt is reinvested, Governing Council member Klaas Knot said, hinting at a possible timeframe for the bond-buying plan.
"If you take for instance the outstanding amount of already-made commitments of the ECB with respect to its asset-purchase program, it effectively means that the degree of monetary accommodation from that program will be with us until end-2020," the head of the Dutch central bank said at a conference in Vienna on Wednesday. "There's the sort of reinvestment decision that has already been taken."
Knot's comments suggest that the ECB envisages recycling the cash from maturing bonds under QE for about three years once the program ends. Policy makers have committed to spend 80 billion euros ($90 billion) a month until March 2017 to fuel inflation, and economists surveyed by Bloomberg before last week's Governing Council meeting predicted purchases will be gradually wound down over a period of about 10 months.
The ECB announced the reinvestment strategy in December and has stated that it will continue "for as long as necessary." A spokesman for the Frankfurt-based central bank declined to comment on Knot's remarks.
'Be Patient'
While President Mario Draghi has committed to prolong QE if needed, he has so far stopped short of indicating how or whether officials are planning to do so. He did say after last week's Governing Council meeting that the institution's committees have been tasked to study options for improving the implementation of the program.
Some policy makers are working on the assumption that an extension will be necessary, though others have publicly shown caution. Executive Board member Sabine Lautenschlaeger on Tuesday called for more time to gauge the impact of the program, saying that "we will therefore need to be patient for a while before being able to make a final assessment."
Draghi has urged governments to do more to reinvigorate their economies -- a sentiment echoed by the Dutch governor.
Return vs. Risk
"Monetary policy cannot do it alone," Knot said. "If the next recession hits before we have recovered from the previous one, it's a strong case in point that the burden needs to shift to others to do the work because monetary policy can play less of a stabilization role than it has in the past."
While investors should never underestimate "the degree of innovation" taking place at central banks, and should be assured that "if we need to find instruments we will find instruments," their efficacy has to be questioned, Knot said.
"If you provide more and more of essentially the same medicine then of course you decreasing efficiency and you have probably increasing negative side effects," he said. "The trade off between return and risk becomes ever more unfavorable."