Don't Abandon High-Dividend Stocks Just Yet, RBC Says
Ultra-low rates change everything.
By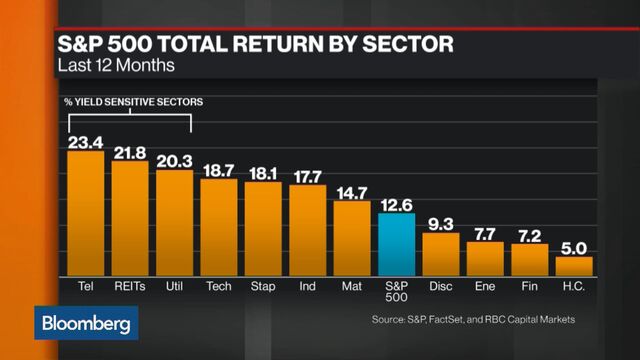 Rising interest rates are generally bad news for high-yielding stocks and sectors, but it's a different story in a very low-rate environment, according to RBC Capital Markets LLC Chief Equity Strategist Jonathan Golub.
The fate of defensive stocks such as utilities, telecommunications, and real estate investment trusts known as REITs, has become a hot topic as investors debate whether one of the most popular equity trades of the year will fall apart in the face of higher interest rates. 
In an effort to answer the question, RBC analyzed data stretching back 25 years and came to the conclusion that it's not time for yield-seeking investors to abandon these sectors just yet.

"The most important thing that we found is we looked at what happens when interest rates rise — do these really get obliterated," Golub said said in an interview with Bloomberg TV on Tuesday. "We found that normally it's not good but when interest rates are super-low, the desire for yield is so overwhelming that people go into these stocks even as interest rates begin to rise."

The outperformance of high-dividend stocks has only been a theme since January 2016, RBC found, and valuations don't seem as stretched as some observers might think given the popularity of the trade. With investors lured by the prospect of higher dividend payouts, money had been pouring into the 'bond-like' stocks and pushing up their prices.

According to RBC, however, the average price-to-earnings ratio of utilities', telcos' and REITs' (at 17.3 times, 13.8 times, and 18.8 times, respectively) is line with the 16.6 times average of the broader S&P 500. Meanwhile, over the past five years, these sectors' earnings grew faster than the market, making them relatively cheaper.
"People were confusing recent market runs with the sectors that are actually at a discount," Golub said. 
While more return-hungry investors might yet move into high-dividend stocks, there is a limit to their appetite, according to RBC. The cut-off point for that behavior seem to be when the yield on benchmark 10-year U.S. Treasuries reaches 2.5 percent, Golub said in the interview.
With the 10-year yield sitting at 1.73 percent as of Tuesday — despite a bond sell-off that has engulfed markets in recent days — that doesn't appear to be a number that investors are worrying about hitting any time soon. 
Before it's here, it's on the Bloomberg Terminal.
LEARN MORE