Corbyn Sets Out Post-Brexit Vision in Battle for Labour Future
By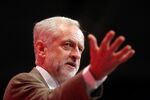 Jeremy Corbyn will set out his vision for a post-Brexit Britain on Thursday, as he seeks to silence critics who say he is making the opposition Labour Party unelectable.
Speaking at Bloomberg LP's London headquarters, where David Cameron three-and-a-half years ago first promised the referendum that cost him his job as prime minister, Corbyn will set out a positive agenda to build a new relationship with Europe, saying the vote to leave was a rejection of the Conservatives' economic model. He will also reiterate that he doesn't support holding a second referendum.

"The Leave vote, for all those in left-behind Britain, was a decisive rejection of all of this failed economic model," Corbyn will say, according to remarks released by his office. "There is an alternative to the drift and decay of the Tories. An economy that works for all, across every part of our country."
Sign up to receive the Brexit Bulletin, a daily briefing on the biggest news related to Britain's departure from the EU.
Corbyn's lukewarm support of the Remain campaign in the run-up to the June 23 referendum sparked criticism that he failed to sway Labour voters to back staying in the EU. While his support at the grassroots level remains strong, his leadership has split the party, with his refusal to step down after he lost a no-confidence vote triggering a leadership election that he's expected to win.
Before it's here, it's on the Bloomberg Terminal.
LEARN MORE