Clinton Fit to Serve, Physically and Mentally, Her Doctor Says
By
Campaign releases two-page summary of physical exam, tests

Report comes as Trump appears on show to discuss his health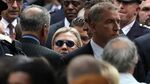 Democratic presidential nominee Hillary Clinton released a letter from her doctor saying she's in good health and fit to serve as president, an effort to settle questions about her physical condition that intensified after she stumbled while leaving a Sept. 11 commemoration.
The two-page letter, made public on Wednesday, says she's recovering from a bout of pneumonia and her vital signs are all within the normal range.
Her physician, Lisa Bardack, provided details of the 68-year-old candidate's treatment for a mild and non-contagious pneumonia diagnosed Sept. 9 and revealed for the first time that she was evaluated one week earlier after experiencing a low-grade fever, congestion and fatigue.
Clinton's most recent medical test results revealed her cholesterol is in the normal range with LDL of 103 and HDL of 56. Her heart rate was 70 and her blood pressure was 100 over 70. All the values are well within healthy levels.
"The remainder of her complete physical exam was normal and she is in excellent mental condition," Bardack, chair of internal medicine at CareMount Medical in Mount Kisco, New York, concluded, according to the release by the campaign.
The release of Clinton's medical information on Wednesday afternoon was a bit of political gamesmanship, coming just hours after Republican Donald Trump revealed some of his health history at a taping of the "Dr. Oz Show" Wednesday in New York.
Heightened Interest
It also comes amid heightened interest in her health following her pneumonia diagnosis, revealed only after she became "overheated" and had to abruptly leave the Sept. 11 ceremony on Sunday in New York. Clinton came under criticism from some Democrats as well as Republicans for not revealing the pneumonia sooner and for a delay in getting out information on Sept. 11. 
Bardack's letter reveals that Clinton began feeling ill earlier. On Sept. 2, Bardack saw Clinton and advised her to rest and prescribed antibiotics. As she traveled on the campaign, Clinton's congestion worsened and she developed a cough, prompting another examination, which revealed the pneumonia.
Clinton also was diagnosed with sinusitis and an ear infection in January, which were treated with antibiotics and steroids. After weeks of continued pain and fluid in her left ear, an ENT chose to place a myringotomy tube in the ear and she had "significant improvement."
Clinton's Health
Trump has questioned Clinton's "mental and physical stamina" and his allies have been stoking speculation about Clinton's health for months. Some fringe websites and Trump surrogates have pushed the story that she may be suffering the lingering effects of a concussion she suffered in 2012. Bardack addressed the matter in a similar report on the candidate's health in 2015, saying follow up testing "revealed complete resolution of the effects of the concussion." It wasn't mentioned in the document released Wednesday.
Trump, 70, shared with Mehmet Oz, a doctor who hosts the popular daytime show, the results of a recent physical exam that his campaign has yet to release to the public. The Republican candidate generally got a good review of his health from Oz. Among the revelations, Trump, 70, has high cholesterol and a body-mass index of about 30 -- which government specialists say is on the border between overweight and obese. He enjoys fast food and said he finds it hard to exercise on the campaign trail.
The information from a report by Trump's doctor wasn't released to the public. Trump said Monday on Fox News that he had undergone a physical exam within the last week and would release "very, very specific numbers" from it, though he didn't say when.
The political nature of the dueling health reports was demonstrated by a statement from Clinton's campaign manager, Robby Mook. He used the release of the health information by Clinton to bring up Trump's refusal to release tax returns or provide details on his physical condition.
He called the Republican's appearance on the television show a "charade" and "completely unserious," and said Trump "continues to hide his taxes and business dealing behind fake excuses."
Clinton's medical history included deep vein thrombosis in 1998 and 2009, an elbow fracture in 2009, and a blood clot discovered in followups to her 2012 concussion, Bardack said last year. At that time, Clinton regularly took Armour Thyroid, antihistamines, Vitamin B12 and Coumadin, an anticoagulant. She's still taking all the same medications, Bardack said, with more specificity about the antihistamine the candidate is taking. It is Clarinex.
The Clinton campaign also released a one-page report on vice presidential nominee Tim Kaine based on an examination conducted Feb. 12. In addition to listing the results of tests the physician, Dr. Brian Monahan, pronounced him "in overall excellent health."
Before it's here, it's on the Bloomberg Terminal.
LEARN MORE