China's Credit Surge Shows Growth Imperative Trumping Debt Risks
Bloomberg News
Businesses are sitting on cash or using it to pay down debt

Property sales by value surge as policy makers look to tighten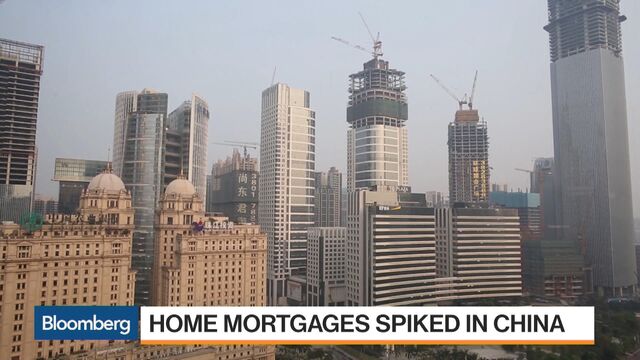 China's surging credit in August boosted property sales while barely moving the dial on private investment, underscoring the challenge for policy makers striving to support growth while reining in debt risks.
Aggregate financing jumped to 1.47 trillion yuan in August ($220 billion), helping fuel a 39 percent jump in property sales by value in the first eight months. Medium and long-term new loans, mostly mortgages, climbed 528.6 billion yuan. Private investment in fixed assets, meanwhile, stalled at 2.1 percent for a second straight month in the January through August period, matching a record low.
Months after an unidentified "authoritative person" told the Communist Party's People's Daily newspaper that China must face up to risks associated with soaring debt levels, policy makers are grappling with how to do that without growth slipping below a target of at least 6.5 percent. At the same time, there's scant evidence of progress on pledges to rein in excess capacity in industries from steel to cement that are at the center of President Xi Jinping's efforts to restructure the economy.
'Throw Money'
"It's clear that reform of the state sector is taking a back seat to increasing monetary stimulus into the economy," said Andrew Collier, an independent analyst in Hong Kong and former president of Bank of China International USA. "Xi Jinping's supply-side reform has encountered significant opposition from provincial governors. The answer seems to be to continue to throw money at the problem until the music stops."
Most of the new credit is going to non-financial businesses that are overwhelmingly opting to hold onto it or use it to pay down debt rather than invest in real assets, said Freya Beamish, a China economist at Lombard Street Research in London. So while Beijing has flooded firms with liquidity, returns on credit are diminishing, she said.
"There has been quite a bit of divergence between what has been said by the authoritative person and what is going on," said Zhu Ning, deputy dean at Shanghai Jiao Tong University's Advanced Institute of Finance in Beijing and author of the book "China's Guaranteed Bubble." "The credit data and social financing data is pretty much telling us the central bank is doing very differently from what they preach."

Despite the surge in August credit, Bloomberg Intelligence economists Tom Orlik and Fielding Chen said the month's data may be an aberration that detracts from the trend toward a moderation in credit expansion. While the on-off flow of aggregate financing is unusual, year-to-date it's up a reasonable 11 percent and efforts to curb shadow banking persist, said Tim Condon, head of Asian research at ING Groep NV in Singapore.
And there are some signals that authorities are aware of the risks. China should take steps to restrain bubble-like expansion in housing markets and tame excessive financial inflows into property, a central bank economist said in a recent interview with China Business News.
Still, developments this year are disappointing for those with a long-term view on China because of a total lack of progress toward structural reforms, an unabated rise in corporate debt and runaway property prices, said Stephen Jen, CEO of Eurizon SLJ Capital Ltd. in London.
"Beijing seems to be adopting the global norm of policy short-termism, exchanging heightened long-term risks and imbalances for short-term stability," said Jen, former head of currency strategy at Morgan Stanley.