Photographer: Dale de la Rey/AFP via Getty Images
Billionaire Li Ka-Shing Is Getting Back Into Hong Kong Housing Market
By and
Billionaire's property unit pays $251 million for Sha Tin site

Hong Kong developers have been outbid by mainland rivals
Billionaire Li Ka-shing is getting back into Hong Kong's housing market, with his property unit buying its first plot of residential land from the government in four years.
Li's Cheung Kong Property Holdings Ltd. will pay HK$1.95 billion ($251 million) for the New Territories site, the Hong Kong Lands Department said in a statement Wednesday. Designated for private residential purposes, the site has a maximum gross floor area of 22,676 square meters.
The purchase is a welcome boost for Hong Kong's housing market, where large developers have been reluctant to make high bids on land after home prices fell and sales slowed earlier this year, making way for smaller local companies and mainland Chinese firms. Sun Hung Kai Properties Ltd., Hong Kong's largest developer, last month outbid 10 other companies with a HK$2.4 billion offer for a site in the same Sha Tin area, its first residential land acquisition since June 2015.

Li, Hong Kong's richest man, was until recently one of the biggest players in Hong Kong's property market, buying 37 percent of the land sold by the government in 2011, and a further 6 percent the following year. Since then, he's been largely absent.
"While the market may expect this is the sign of CK Property turning more positive on the property market, we believe the company will continue to be selective on land banking with a stringent return requirement," Cusson Leung, JPMorgan's head of Asia ex-Japan property and conglomerates research wrote in a note to clients. 

The purchase price was about 30 percent above market estimates, The Standard newspaper reported earlier today.
Property Rebound
There have been signs of a property rebound in Hong Kong, where prices have fallen from their all-time high in September. After slumping as much 13 percent between September and March, home prices have risen in recent months and transaction volumes rose in August to the highest in 14 months. Prices are still more than 6 percent below last year's peak, according to Centaline Property Agency Ltd.
Cheung Kong Property shares rose 2 percent to HK$56.65 at 3:38 p.m. in Hong Kong. The shares have advanced 12 percent this year, roughly in line with the Hang Seng Properties Index.
Cheung Kong Property said as recently as last month that it wasn't easy to buy land at "reasonable costs," amid increasing competition from new entrants, especially in Hong Kong.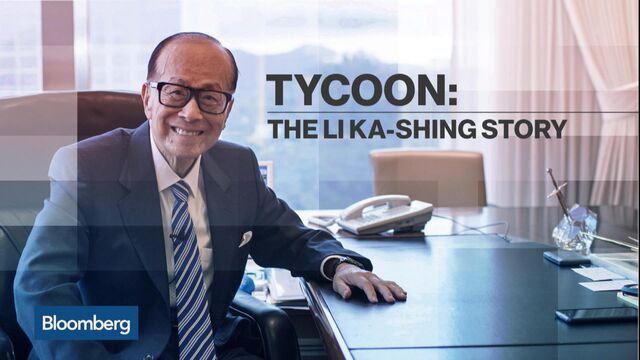 Tough Times
Eighty-eight year old Li, who has spent billions of dollars in investments in European telecom assets since 2010, in an interview earlier this year, said Hong Kong is going through its toughest times in two decades amid a widening wealth gap. On the property side, he has often alluded to rising land costs in Hong Kong and China. Last year, in a media briefing, Li said in Cantonese that the cost of "flour," or land, now exceeds the price of the "bread," or apartments.
Li's fellow octogenarian billionaire Lui Che-Woo earlier this month said he's having trouble reading the city's property market these days. "Recently land prices have surged so much," said Lui, who has spent more than 50 years as a property developer. "I really don't know what's happening right now."
Other bidders on the New Territories plot included Wheelock Properties Ltd., Vanke Property (Overseas) Ltd. and Sun Hung Kai Properties, the Lands Department said.