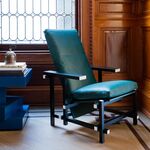 The famed Red and Blue chair, designed 99 years ago by Dutch artist Gerrit Rietveld, was seating reduced to its most essential form. Made from one slanted slab of stained black beech and an interlocking, jointless frame, the original resides in the permanent collection of New York's Museum of Modern Art.
For the chair's 100th anniversary next year, the Italian furniture brand Cassina, which acquired reproduction rights in 1988, has reimagined it with cushions and nonprimary colors. "We're creating a more practical version of an icon for the modern era," says Barbara Lehmann, Cassina's director of historical archives.
The iteration has hand-stitched padding in your choice of linen or leather and a neutral, green plywood base that, it turns out, harks back to the original all-black version—the chair didn't get its distinctive red, yellow, and blue colors until Piet Mondrian painted it in 1923. From $4,375
Before it's here, it's on the Bloomberg Terminal.
LEARN MORE