Carney Compares Brexit to Cricket as BOE Unveils Latest Batters
By
Governor says staff should approach EU work like Test cricket

Canadian has a record of economic sporting metaphors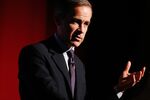 Bank of England Governor Mark Carney doesn't intend to be stumped by Brexit.
Introducing a seminar at the central bank on sport and finance on Wednesday, the governor compared the U.K.'s withdrawal from the European Union to Test cricket, in which two countries duke it out for five days a time over a series of up to five matches.
For Carney, who has in the past attended cricket games in London, that serves as a better sporting metaphor for the U.K.'s likely lengthy extraction from the EU after four decades than calling it a "marathon, not a sprint."
"We thought about that and actually you're more exhausted after the marathon than after the sprint so this is the wrong metaphor," Carney said. "The right analogy is this is a Test series, a series of Test matches."
His comments came the same day the central bank named some of its line-up to help work on Brexit issues, announcing the move of two senior staff members. Victoria Saporta was promoted to Executive Director for Prudential Policy, while Phil Evans, formerly Director for International, became Director for Financial Policy in the Prudential Policy Directorate. Evans will have responsibility for coordinating the BOE's work relating to Brexit, the bank said.
Carney was joined at the seminar by former West Indies cricketer turned broadcaster Michael Holding. The governor told his officials they should pace themselves during the Brexit talks rather than treat them as a shorter form of cricket, known as Twenty20 or T20. Those games tend to last three or four hours.
"It's not T20," Carney said. "There's a narrative to this, it takes time, it takes strategy, it takes everyone in order to be as successful as possible to fulfill our mission to promote the good of the people of the U.K. and that's what we're doing."
Carney, a keen runner, has form when it comes to sporting metaphors, using England's chances at the Football World Cup and imagery of marathon running in describing the latest travails of the U.K. economy.
Still, his latest observations may be seen as a little ironic by his staff. The Canadian scrapped the BOE's game of cricket at the annual sports day in 2014, one year after he took over, after the 11-a-side game beloved by his predecessor Mervyn King was deemed too exclusive.
Sign up to receive the Brexit Bulletin, a daily briefing on the biggest news related to Britain's departure from the EU.
Before it's here, it's on the Bloomberg Terminal.
LEARN MORE