Brexit Gives Boost to U.K. Treasury's Focus on Green Finance
By
Tackling climate change is 'top priority' says minister

Britain focusing on economic strengths as it seeks to quit EU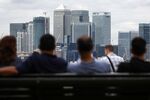 The U.K. Treasury is supporting efforts by London to become a global hub for green finance, seeking to build on the country's strengths after June's vote to leave the European Union.
Tapping the financial market for renewable energy, clean water and other green projects, is a "top priority" for the new government, said Simon Kirby, Economic Secretary to the Treasury, at an event Tuesday hosted by the City of London Corporation.
The global green bond market financing low-carbon infrastructure could soon reach 100-billion pounds ($132 billion) a year, according to the City's Green Finance Initiative. The market is expected to help almost 200 countries meet their commitments under the December Paris accord to limit global warming.
"If the world is to make a meaningful difference in dealing with global climate change we need to press on with this," Kirby told reporters, adding the new government "will go further and faster to step up our efforts to halt climate change in its tracks."
The Treasury is looking to build on the U.K.'s economic strengths as it prepares to depart the EU, according to former Lord Mayor of London Roger Gifford, who's also chairman of the Green Finance Initiative. In addition to green finance, London will seek to cultivate its positions in renminbi trading, financial technology and clearing, he said.
"I can absolutely say green finance has gone up the agenda," he said. "We are no longer using the language of the centrality to the European financial system, though I believe London will remain very firmly at the center of the European financial system."
Even as emerging economies such as China are expected to be the biggest spenders on green projects, London could still benefit by issuing bonds in a range of currencies, according to Michael Sheren, senior adviser to the Bank of England, who said Bank of China Ltd. plans to list the country's first covered green bond in London.
"If you're actually going to make a serious dent, the money needs to start moving to markets like London," Sheren said. "A broad base of institutional investors, of experienced bankers" means that "we have the infrastructure to do this," he said.
China is seeking to spend the equivalent of $600 billion a year on delivering its green initiatives, as much as $300 billion of which will be transacted offshore, he said.
"If London and Singapore and other places get it right, to help support that transition, it's going to be very important to mobilize that money," Sheren said.