Brexit Bulletin: Banks Are Like Nuclear Waste?
At least one person at Bank of America thinks so.
By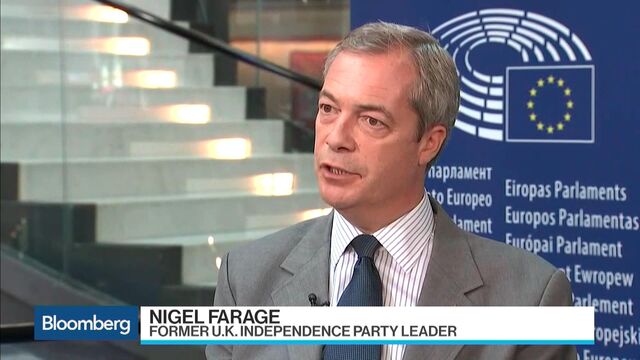 Sign up to receive the Brexit Bulletin in your inbox
 It's rare that bankers liken their work to nuclear waste, but that's just what Bank of America's president for Europe did today in urging the government to gain a transitional agreement to safeguard financial services after Brexit. 
Moving employees and activities from London once the U.K. leaves the European Union would be "fraught with risk," Alex Wilmot-Sitwell told the House of Lords.
"You don't move nuclear waste in a race," he said. "You do it in a very carefully coordinated and managed process. The materials are perfectly safe, so long as they are properly handled and so long as the period of time to move them is suitable."
Separately, an advisory group for U.K. drug companies, led by the bosses of GlaxoSmithKline and AstraZeneca, is pressing the government to help their industry preserve access to the EU too.  
Transitional Deal?
Such warnings are why many doubt Prime Minister Theresa May can leave the EU and cement a new free trade accord within the two-year timeframe given for formal talks. 
Failure to do so would risk exposing British manufacturers to World Trade Organization tariffs, barriers and regulations. Services would suffer by losing access to the single market. 

History doesn't bode well for the chances of a speedy deal. It's taken seven years for the EU to negotiate an as-yet unratified pact with Canada that lacks much provision for services. And the U.K. may not get an easy ratification ride from other EU leaders.
The U.K. could follow Norway's model, retaining links with the single market in return for giving up the ability to shape its rules and paying something into the EU's coffers. Then it could focus on a permanent pact.
Hold the Champagne, Mrs. May
Yes, there are signs the British economy may have weathered the referendum shock better than many Remainers warned. But the pro-Brexit lobby might want to put the champagne back on ice.
While data today showed unemployment staying at an 11-year low, it may still be too soon to gloat, and May is likely right to warn of tougher times ahead. That's the lesson of the 2008-2009 recession, triggered in part by the collapse of Lehman Brothers. It showed shocks often take a while to filter through the economy, Bloomberg's Scott Hamilton writes.

Among the reasons why: Firms wait to fire workers or cut investment as they want to be sure a slump is underway, and households eventually stash cash ahead of recessions. This time around consumers and companies may be waiting for the formal exit talks to begin so they know just what May's plan is. Then we could see drastic steps.
The Odd Couple
Former U.K. Independence Party leader Nigel Farage and European Commissioner Pierre Moscovici may be strange bedfellows, but both want an early resolution for Brexit.
Moscovici told Bloomberg Television's Francine Lacqua that talks should begin "as soon as possible," because a delay would prompt investors to "start being too careful and start to wonder."
Farage said he too hoped and thought May would trigger Article 50 in January.  "We have voted to leave this political union," Farage told Bloomberg. 
Moscovici also announced the Commission had launched a task force to oversee operational details of its negotiations. 
Meanwhile, EU President Jean-Claude Juncker pledged new policy initiatives from defense research to a volunteer corps as he sought to shore up the bloc after Brexit. 
On the Markets
Investors are too complacent about the next referendum, according to Morgan Stanley. This one will be in Italy, where voters are assessing constitutional changes that Prime Minister Matteo Renzi has gambled his job on. Banks are divided on the outcome, with Morgan Stanley putting a likelihood of 35 percent of Renzi winning, while Goldman puts it at 60 percent. 

And Finally...
It's a good thing the government is waiting to start official Brexit talks. Waiting will allow U.K. officials to better identify their opposite numbers. In a parliamentary hearing yesterday, Brexit Secretary David Davis momentarily confused the name of the man who'll lead the EU side in talks with him, calling Michel Barnier "Mr. Garnier"–the name of a fellow Conservative lawmaker.
For more on Brexit follow Bloomberg on Twitter, Facebook and Instagram, and see our full coverage at Bloomberg.com