Prosecutors Call Lula Mastermind of Brazil's Biggest Scandal
Sabrina Valle, Mario Sergio Lima and Bruce Douglas
Former president charged with corruption, money laundering

Lula denied the allegations, said prosecutors have no proof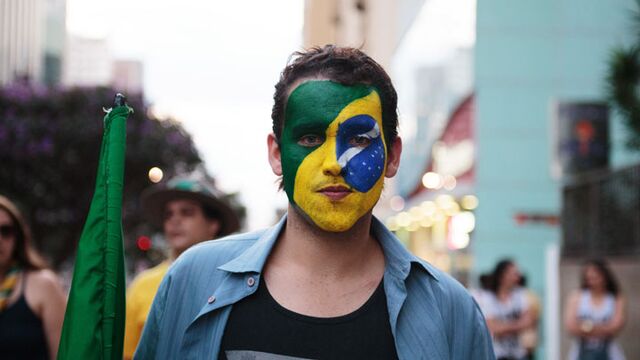 Brazilian prosecutors accused Luiz Inacio Lula da Silva of masterminding the biggest graft scheme in the country's history, saying the former president enriched himself and orchestrated kickbacks that cost the country billions of dollars. He denied the allegations.
Lula received at least 3.7 million reais ($1.1 million) in benefits and ran the so-called Carwash scheme that may have cost state-run oil company Petrobras as much as 42 billion reais, federal prosecutor Deltan Dallagnol said in a news conference on Wednesday. His office formally charged the former president with corruption and money laundering.

"The federal prosecutor's office today is accusing Mr. Luiz Inacio Lula da Silva of being the commander-in-chief of the corruption scheme known as Carwash," Dallagnol said.
Under Brazilian law, a judge must accept the prosecutor's charges before Lula can be forced to stand trial. Speaking through his lawyers, the former president said he "vehemently" rejects the allegations, which he said have no basis in fact. Lula never owned the beach-side property that has become a focal point of the investigation, where prosecutors say a construction company gave him illicit gifts in the form of renovations, his lawyers wrote in an e-mailed statement.
"They never showed a single crime that was committed by Lula, nor did they provide any proof," his lawyers Cristiano Zanin Martins and Roberto Teixeira wrote. "Since the start of Carwash, they have scrutinized the life of the ex-president. They have never found anything."
For an in-depth look at some of Brazil's latest troubles, click here.
The charges against Lula mark what could become the climax of Carwash, which for more than two years has gripped a nation long accustomed to the impunity of its leaders. Dozens of top business executives have been jailed and around 50 serving politicians are under investigation for their role in the scandal. But Lula, who gained global recognition for lifting millions from poverty during his two terms, is by far the probe's most prominent target.
Towering Figure
More than five years after leaving office, Lula is still a towering political figure in Brazil and the Workers' Party's preferred presidential candidate for the 2018 election. He is slated to meet with party leadership to discuss the accusations in Sao Paulo on Thursday.
A possible trial or arrest of the former president could prove problematic for newly-confirmed President Michel Temer, who is calling for calm after the impeachment of his predecessor, Dilma Rousseff, polarized Brazil. "Lula's arrest could create an upheaval," Workers' Party Senator Paulo Paim said Wednesday.
Click here for a look at the aftermath of Brazil's impeachment process.
The 70-year-old former trade union leader has come under increased scrutiny in recent months as investigators examine allegations ranging from obstruction of justice to accepting perks from companies in exchange for favors. Police raided his home and detained him for questioning in March, setting off a political firestorm.
A lawyer representing Lula later filed a petition with the UN Commission on Human Rights, alleging Carwash investigators violated his human rights. He said the federal judge leading the probe, Sergio Moro, was politically biased.
The accusations weakened Lula politically just when his hand-picked successor Rousseff needed him the most. The courts prevented him from joining her cabinet before Congress voted to temporarily remove her from office and put her on trial for allegedly using accounting tricks in the federal budget. She lost the trial in August, resulting in the end of her presidency.