BlackRock Sides With Japan's Central Bank Over ETF Buying
by and
World's biggest ETF manager sees room for growth in Japan

Critics say BOJ buying could make some stocks hard to trade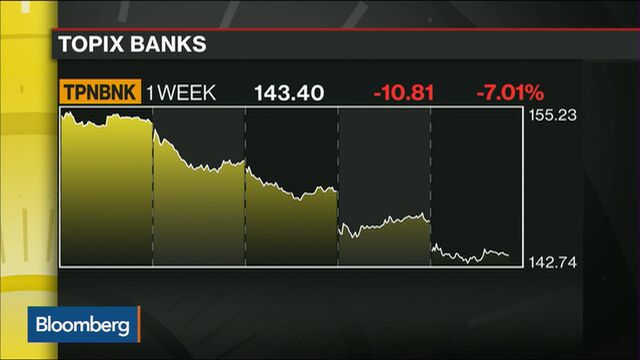 The Bank of Japan has gained an influential ally in its effort to ease concern over central bank intervention in the nation's $5 trillion stock market.
QuickTake Exchange-Traded Funds
BlackRock Inc., the world's largest money manager, said investor fears of getting crowded out by the BOJ's exchange-traded fund purchases are overblown. While the supply of tradable shares may shrink for a few companies, the number of affected firms is small relative to the overall market, according to Jason Miller, the head of BlackRock's ETF unit in Tokyo. ETFs only account for about 3 percent of Japan's equity value, he said, adding that fund managers have ways to work around illiquid shares.
"One or two stocks might have a greater impact, but as an industry overall, it's still a very small part of the market," Miller said in an interview in Tokyo. "Japan, for the third-largest equity market in the world behind the U.S. and China, is at a very early stage of ETF market penetration."
BlackRock, which has a stake in the growth of ETFs as the world's top manager of the products, is speaking up as a debate over the BOJ's $58 billion-a-year purchase program heats up. While critics have argued that central bank holdings could make some stocks difficult to trade, BOJ Governor Haruhiko Kuroda has repeatedly defended the stimulus and said there's room to increase buying if needed.
For a QuickTake explainer on ETFs, click here.
The BOJ almost doubled its target for annual ETF purchases in July, making it one of the stock-market's biggest investors, often dubbed "whales" in the industry jargon. The monetary authority spreads its holdings across funds that mimic Japan's most popular indexes -- the Nikkei 225 and Topix -- along with the JPX-Nikkei Index 400, which is meant to showcase the nation's shareholder-friendly companies. A smaller slice of its budget goes to ETFs tracking firms that boost wages and capital expenditure.
BlackRock oversees about $60 billion in domestic and international ETFs related to Japanese stocks, though it's unclear whether the firm's funds are among those purchased by the BOJ because the central bank doesn't disclose specific holdings. The New York-based money manager, which oversees about $4.9 trillion worldwide, said it couldn't confirm whether the BOJ buys its products.

The 3 percent ratio of ETFs to market capitalization in Japan is still small relative to America's 8 percent, Miller said, citing data compiled by Bloomberg. ETF holdings are also low relative to the free float, or tradable shares, in indexes included in the BOJ's program, he said.
Japan's situation is unique because the BOJ is a large buyer with no intention of selling any time soon, according to James Rehlaender, the chief executive officer at Northwood Securities in New York. That's causing liquidity in some Japanese shares to decrease, he said.
Sinking Float
"The real issue is the permanence of the government position and the impact this has on float," Rehlaender said.
The central bank is on course to become the No. 1 shareholder of 55 companies in Japan's Nikkei 225 Stock Average by the end of 2017, according to estimates compiled by Bloomberg last month. The Nikkei 225 slid 1.3 percent at the close of trading in Tokyo on Thursday.
While the exact amount of a company's freely-traded shares is often difficult to pin down, Goldman Sachs Group Inc. estimated in an Aug. 10 report that BOJ purchases could soak up the remaining free float at firms including Comsys Holdings Corp., Nissan Chemical Industries Ltd. and Tokyo Electron Ltd. over the next year. If the free float in some stocks keeps shrinking, it could become more difficult for fund managers to find the shares they need to track benchmark indexes.
Derivatives Boost
ETF managers have ways to compensate for stocks with low free float, Miller said. Instead of buying all the underlying securities in an index, they can substitute illiquid shares with those that have a high correlation. For example, they might replace a difficult-to-trade clothing retailer with a more liquid competitor influenced by the same industry trends. The practice, known as "optimization," is often used when a stock is halted.
BlackRock also wants to help develop an ETF "ecosystem" that would make the country's markets more liquid, Miller said. Securities lending programs and deep derivatives markets have helped ETFs grow in the U.S., but are so far lacking in Japan, he said.
"In a more mature ETF market, you see liquidity added to the market by the ability to go long or short, the ability to lend and earn additional income, and also by a robust options market," Miller said. "It's something we're working hard to promote."
Before it's here, it's on the Bloomberg Terminal.
LEARN MORE