markets
Bank of Russia Turning Heads, Not Changing Minds as Easing Seen
By
Most economists predict half-point rate cut at meeting Friday

Governor vowed 'moderately tight' policy in unscheduled speech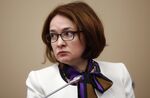 Bank of Russia Governor Elvira Nabiullina isn't about to spring any more surprises. At least that's the consensus of analysts for now.
While many economists were caught off guard by her unscheduled speech last week in defense of the central bank's "moderately tight" policy, they remain undeterred about the scope for easing this Friday. All but five of the 42 analysts polled by Bloomberg say the benchmark rate will be lowered by 50 basis points to 10 percent, with the rest predicting no change on Friday. A survey of traders by the Tradition brokerage showed 47 of 65 respondents also predicting a half-point cut. The focus, instead, is shifting to what lies ahead.
"The central bank tried to send a signal that the market may be getting ahead of itself by expecting a series of cuts in the coming months," said Citigroup Inc. economist Ivan Tchakarov, who maintained his forecast for a decrease of half a percentage point this week and sees a total of 150 basis points of easing left this year. "But the risk is that they do only two cuts by 50 basis points each."
Now that the Bank of Russia is zeroing in on its 4 percent inflation target next year, there's a catch: its stranglehold on the economy may actually grow tighter relative to slowing price growth as policy makers keep their eyes on the prize. The challenge is to remain on alert while aligning interest rates with a deceleration in consumer prices.
'Credibility, Visibility'
"Should it refrain from doing so, then the market would not understand anymore what the central bank's reaction function is, and the risk is that it could hit the central bank's credibility and visibility," said Sebastien Barbe, head of emerging-market research and strategy at Credit Agricole CIB.
Derivatives traders scaled back their bets for a rate cut in the next three months after Nabiullina's first speech on monetary policy since mid-summer. Forward-rate agreements fell to 47 basis points on Wednesday, the lowest in almost two weeks. The Bank of Russia will announce its decision at 1:30 p.m. in Moscow, followed by the governor's news conference.
'Now Ideal'
"The conditions are now ideal to reduce the key rate," said Dmitry Shagardin, chief economist at Bank Saint-Petersburg PJSC, who sees the benchmark lowered to 9.5 percent by year-end if oil prices remain at $40 to $50 a barrel. "The moderately tough statements of the central bank's head affect the likelihood of rate cuts in December and next year."
Two meetings remain this year after Friday's review of borrowing costs. The benchmark rate will fall to 9.5 percent by the end of 2016, according to the median of 22 forecasts in a Bloomberg survey.
The central bank, which overshot its forecast in 2015 for a fourth consecutive year, sees inflation at 5 percent to 6 percent in 2016. Annual price growth slowed to 6.9 percent in August, the slowest in 2 1/2 years, and the Finance Ministry predicts it will slip further to 5.7 percent by the end of 2016.
Policy makers "are now investing in their reputation," and appear ready to sacrifice economic growth, said Anatoliy Shal, an economist in Moscow at JPMorgan Chase & Co., who sees a 50-50 chance for a rate cut on Friday and predicts a hold.

The Bank of Russia will "consider the possibility" of further easing if inflation is in line with forecasts and based on estimates of risks to price growth, according to its statement in July after policy makers left the benchmark at 10.5 percent. While inflation expectations for a year ahead fell in August to the lowest since October 2014, their median value still remains at more than triple the central bank target. 
If there was any confusion sowed by Nabiullina's speech, that's because she looked at a longer horizon, according to Alexey Pogorelov, an economist at Credit Suisse Group AG.
"We treat these comments as an attempt by the central bank to correct excessively favorable expectations of households and the market about future policy," he said. They "are hawkish and may trigger some re-pricing of future policy rate cuts."
— With assistance by Zoya Shilova
Before it's here, it's on the Bloomberg Terminal.
LEARN MORE