Ban on Future 'Ransom' Payments to Iran Approved by House Panel
By
Obama's cash to Iran 'ignored a long-standing' policy: Royce

Democrats opposed the bill that advanced on a party-line vote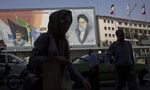 A measure prohibiting future "ransom" payments to Iran won approval from a House panel on a party-line vote, as Republicans pursued their argument that President Barack Obama paid for the release of captives in January.
The Republican-sponsored measure was approved Wednesday by a vote of 21-16 in the House Foreign Affairs Committee and may be taken up on the House floor this month.
"The president had rejected the advice of his own Justice Department and ignored a long-standing U.S. policy" not to pay ransom in exchange for hostages, said Representative Ed Royce, the panel's chairman and sponsor of the legislation. The main goal of the bill is preventing Iran from obtaining cash it can use to finance the terrorist group Hezbollah, Royce said.
Virginia Democrat Gerry Connolly countered that the money was Iran's in the first place and that Republicans were pushing the legislation "in the hopes of some political advantage."
The U.S. delivered $400 million in cash to Iran on Jan. 16 on an airplane that touched down soon after the the release of four American prisoners, including Washington Post reporter Jason Rezaian. Later, the administration paid out an additional $1.3 billion in cash.
The $1.7 billion was a settlement on claims related to an aborted weapons sale before the Iranian Revolution in 1979. The Obama administration has maintained there was no direct trade-off while acknowledging that parallel discussions on the prisoner release, the cash payment and the nuclear deal with Iran all converged in time.
In the Senate, Florida Republican Marco Rubio has sponsored a measure to prevent all future payments to Iran from a fund to pay settlements until Iran returns the "ransom money" and settles Iranian terrorism claims from U.S. victims.
The House bill is H.R. 5931.
Before it's here, it's on the Bloomberg Terminal.
LEARN MORE