business
Xi's $300 Billion Stimulus Playbook Boosts Beijing's Control
Bloomberg News
Policy bank fundraising almost eclipses 2015's record figure

Lending via policy banks goes straight into the real economy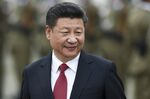 In Xi Jinping's China, all roads lead to Beijing.
Or so it seems, as the president tightens central controls on everything from local authorities to state-owned enterprises to the military. When it comes to the economy, stimulus is now importantly being channeled through a handful of government lenders.
The shift helps explain why the People's Bank of China has failed to live up to the forecasts of private economists early this year for interest-rate and required reserve-ratio cuts.
At least 2 trillion yuan (almost $300 billion) in new financing for lending has been amassed at the so-called policy banks, according to data compiled by Bloomberg.

The China Development Bank, the Export-Import Bank of China and the Agricultural Development Bank of China have raised a combined 3.4 trillion yuan ($509 billion) through bond sales and low-rate credit from the People's Bank of China this year, the data show once funds to repay maturing debt is included. That's almost eclipsed the record 2015 total. 
In the process, the combined assets of the three policy banks has swollen to 21.3 trillion yuan -- or bigger than the U.K.'s gross domestic product. By the end of 2016, policy bank assets will make up about 15 percent of the total banking sector, up from 8 percent three years ago, according Larry Hu, the head of China economics at Macquarie Securities Ltd. in Hong Kong.
And more is on the way: China will encourage policy banks to increase credit support to investment projects, according to a statement last week after a State Council meeting led by Premier Li Keqiang. That'll give another dose of stimulus and grant President Xi yet more control over where the money should flow.
This is a "classic case of Chinese financial innovation," said Fraser Howie, the Singapore-based co-author of "Red Capitalism: The Fragile Financial Foundation of China's Extraordinary Rise." "Again we see the government picking the winners. The huge inflow of government money can lead to huge overcapacity." 
The latest batch of data released Tuesday show the tactic is working to sustain solid growth, for now, with factory output, retail sales and fixed-asset investment all beating economists' forecasts. Meantime, credit data for August is also expected to rebound.

But there is a cost.
"You can front-load future infrastructure demand to today for two or three years but you can't do it forever," said Macquarie's Hu. "The whole economy is still adding leverage, especially in the property sector."
The three policy banks are wholly owned by the government and are charged with lending to suit policy objectives. That may be building water facilities to help farmers in landlocked provinces, stocking up on pork, cotton and tea, or renovating shanty towns. In that capacity, they do the work of fiscal policy -- spending money on government projects.
Once project managers receive the funds, they'll typically deposit them at least for a time with commercial banks, which could then lend the funds on, creating a multiplier effect. When companies receive the loans, they sometimes use the cheap funds as collateral for even more credit, from commercial lenders. The knock-on effects are a growing part of China's complex web of monetary policies.
Faster Multiplier
Ding Shuang, the head of Greater China economic research at Standard Chartered Plc in Hong Kong, estimates the multiplier effect of stimulus via policy banks is about 5 times -- higher than what would be achieved through a cut to banks' required reserve ratio. The extra liquidity from RRR cuts may just end up in the interbank bond market, whereas policy bank lending is directed straight into the real economy.
"It can definitely help hit the growth target because it is immediate," he said, referring to the government's goal to achieve an economic expansion of at least 6.5 percent this year. "In the short term, as long as it is invested, then it is GDP. But in the long term, if it is wasted investment, then they have to pay for that."
For a story on questions about the merits infrastructure-led stimulus, click here
The increased use of the policy bank channel helps explain why the PBOC has kept interest rates on hold since October and the RRR unchanged since February. With policy makers keen to avoid fueling bubbly housing markets in some major cities or inflows into shadowy wealth management products, policy bank lending can bolster growth where it's needed.
Indeed, cities from Shanghai to Shenzhen have been rolling out tightening measures this year as local officials tackle overheating that followed past broad monetary stimulus. Ma Jun, the PBOC research department's chief economist, called for steps to restrain bubble-like expansion in housing markets and tame excessive financial inflows into property, according to the transcript of an interview with China Business News published Sunday.
The rising reliance on this small cluster of banks marks a recentralization of economic control occurring under the presidency of Xi. They're also being used to write checks for Xi's ambition to promote the country's economic clout overseas by funding projects including Indonesia's first high-speed train.
State Control


While policy lending has better risk-reward tradeoffs than a broad credit expansion, it "runs counter to the stated objective of reducing government intervention in the allocation of credit," according to Eswar Prasad, a professor at Cornell University in Ithaca, New York.
The centrally planned spending, rather than being driven by banks or the markets, is a substitute for local-government financing vehicles that led the stimulus effort after the 2008 financial crisis, according to George Magnus, London-based senior independent economic adviser to UBS Group AG.
"Policy development banks are the new LGFVs," he said. Serving as a form of fiscal policy set by the central government, "the scale of their activities is more measured, and less reckless."
— With assistance by Yinan Zhao, Zheng Wu, and Kevin Hamlin
(
Updates with credit data forecast in ninth paragraph.
)
Before it's here, it's on the Bloomberg Terminal.
LEARN MORE