New Worry for U.S. Stocks Watching Fed Is Weak Data
By
Expectations for rate hike by December higher than a week ago

Economic data in U.S. has missed expectations in September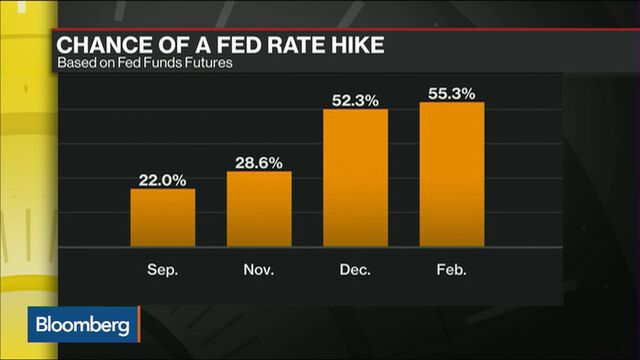 One day U.S. stock investors seem at ease with an interest-rate increase. The next, the S&P 500 Index has its biggest loss in more than two months amid hawkish commentary. What gives?
Judging by the the trajectory of the equity market this summer, the U.S. economy may be the deciding factor. While the S&P 500 is down 2.5 percent since Friday, after Boston Federal Reserve President Eric Rosengren said it was dangerous to wait too long to raise borrowing costs, it was just last month that stocks were rallying even as odds of a rate hike rose.
One big difference between then and now: U.S. economic data, which were beating forecasts in July and August, are now trailing them.
"The market likely would've reacted more positively on Friday if we've had better numbers," John Stoltzfus, chief market strategist at Oppenheimer & Co. in New York, said by phone. "The Fed is probably determined to raise rates in December, and when you're in that anticipation mode it may create some drama around economic numbers for a bit. There's nervousness over whether the Fed is going to raise rates in spite of the economy weakening some, but the reality is we're not at the end of a cycle or rolling over."

Fed funds futures traders are pricing in a 57 percent chance of a hike by the end of the year, according to data compiled by Bloomberg. While lower than the high of 65 percent in August, traders as recently as July 1 saw the chances of a hike this year as barely more than 10 percent.
Economic data in the U.S. has been missing expectations this month, as a Bloomberg index of economic surprises turned negative for the first time since July. The gauge reached the highest since 2014 on Aug. 5, before touching a two-month low last week.
The Institute for Supply Management's non-manufacturing index slumped in August to the lowest since February 2010, the Tempe, Arizona-based group's report showed on Sept. 6. The same gauge for manufacturers also missed expectations on Sept. 1. At the same time, average hourly earnings in August increased at a slower rate than expected.
The S&P 500 dropped 1.5 percent to 2,127.02 at 4 p.m. in New York, erasing Monday's gains and extending a decline to 2.7 percent since Thursday. The Dow Jones Industrial Average lost 258.32 points, or 1.4 percent, to 18,066.75. The CBOE Volatility Index jumped nearly 18 percent to a more than two-month high, while about 8.2 billion shares traded hands on U.S. exchanges, 21 percent above the three-month average.
Selling resumed amid weakness in crude oil, and as investors remained on edge over central banks' ability to bolster growth. Dovish comments from Federal Reserve Governor Lael Brainard helped lift the benchmark 1.5 percent Monday, while sending odds on a rate move at next week's meeting down eight percentage points to 22 percent.
Markets have been jolted out of a period of calm by signs central banks globally may be questioning the need for greater stimulus, and after the Boston Fed's Rosengren indicated a willingness to raise interest rates.
"When these central banks don't move, people start to have fear that their stability factor -- which has been central bank policy -- may be diminished or gone," said Bret Chesney, senior portfolio manager for New York-based Alpine Partners. "And if it is, are equity valuations cheap? From my perspective, they're not. Until the central banks start to coordinate their efforts, I think volatility is going to increase."
A rally in Asian stocks overnight faded, even after Monday's strong U.S. rebound and as data showed China's economy strengthened in July. West Texas Intermediate crude futures sank 3 percent as the International Energy Agency changed its view on the global oversupply, seeing a glut persisting into 2017.

Investors also continue to wrestle with extended valuations as companies in the S&P 500 are forecast to post a sixth consecutive quarterly profit decline. After Tuesday's drop, the index trades at 18.1 times estimated earnings, the highest since 2009.
Economic data will move into focus ahead of next week's Fed meeting, with readings in the next three days on retail sales, initial jobless claims, inflation, consumer and business sentiment, as well as industrial production.
"It seems like the market is split over whether we want higher rates or if we want lower rates," Thomas Garcia, head of equity trading at Thornburg Investment Management Inc. in Santa Fe, New Mexico, said by phone. "There are those that are for higher rates so that if the economy does take a header we have a lever to pull, and the other side says the economy outside the U.S. isn't healthy enough. There really isn't a consensus."