U.S. Files WTO Case Against Chinese Agriculture Subsidies
By
Complaint targets state support for corn, rice, wheat output

China may respond by imposing tariffs, one economist says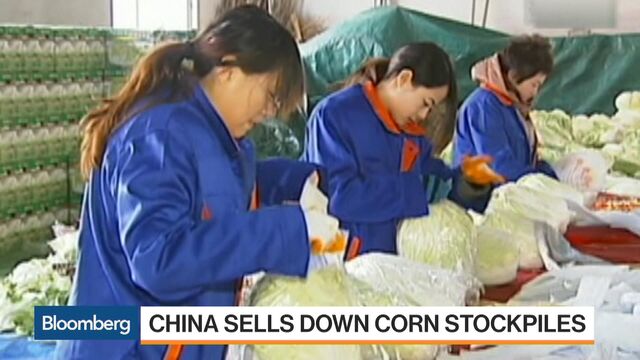 The U.S. brought a trade complaint to the World Trade Organization alleging China is offering excessive support for the production of corn, rice and wheat, in the process denying American farmers the ability to compete fairly for exports.
The value of China's price support for the commodities last year was an estimated $100 billion more than what it had committed to when the nation joined the WTO, the U.S. Trade Representative which launched the action, said Tuesday in a statement.
China's Ministry of Commerce responded by expressing regret at the U.S. action, saying on its website that it complied with WTO rules and would handle the complaint in accordance with established procedures.
The complaint is the 14th brought by the USTR against China at the WTO since 2009, and comes as free-trade policy as well as U.S. trade with the Asian country become hot topics in this year's U.S. presidential election campaign. China is an increasingly large importer of all kinds of foods while the U.S. is the world's biggest agricultural exporter.
"Through tariff cuts and the removal of other trade barriers, China has gone from a $2-billion-a-year market for U.S. agricultural products to a $20-billion-plus market," Agriculture Secretary Tom Vilsack said in the statement. "But we could be doing much better, particularly if our grain exports could compete in China on a level playing field."
Chinese Reaction?
American farmers have seen their incomes slide amid booming global supplies and lower commodity prices. But while Tuesday's action was welcomed by some U.S. farm groups, others in the industry cautioned that there may be a backlash.
"The most likely impact in the next six months might be to motivate China to impose anti-dumping tariffs on U.S. products, including agricultural products," William Tierney, chief economist for Chicago-based research and analysis firm AgResource Co., said in a telephone interview. "It will have little or no impact on Chinese ag policies."
The Chinese Ministry of Commerce is expected to announce its decision this month on potential tariffs on imports of U.S. dried distillers grains, or DDGS, an animal-feed byproduct from ethanol production, Platts reported in August. Chinese ethanol producers called for the investigation in January, arguing that U.S. producers were selling DDGS at artificially low prices.
'Perilous Timing'
China has been selling corn and other commodities from government-owned reserves over the past two months to reduce stockpiles. The U.S. Department of Agriculture says Chinese corn inventories reached a 16-year high in 2016. Effective Sept. 1, China resumed a 13 percent value-added tax rebate on exports of corn products, including corn starch and ethanol, the Ministry of Finance said last month.
U.S. wheat prices fell to 10-year low last month and corn dropped near a nine-year low as favorable weather boosted yields to a record this year. China was the biggest buyer after Canada for U.S. agricultural products in 2015, according to USDA data
"The timing of the WTO is perilous, with most corn and wheat farmers trying to make ends meet," said Peter Meyer, senior director of agricultural commodities at Pira Energy Group in New York. "Rather than talk and negotiate, the U.S. has gone out and irritated one of its best customers. Subsidizing your own farmers for food security is not trade distorting."