U.S. ELECTION WRAP: Trump Math Remains Tough as Polls Tighten
Polls are tightening, but Donald Trump still faces a daunting electoral-map challenge.
By and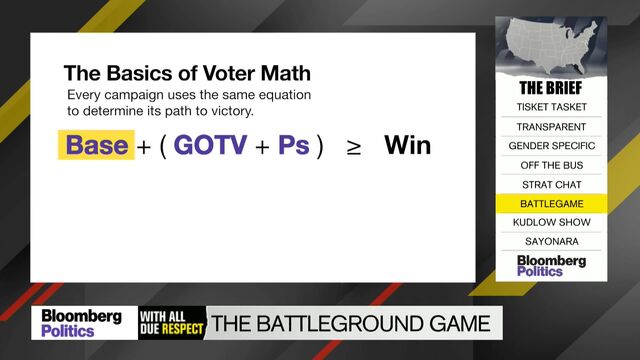 Donald Trump still faces a daunting path to victory even as polls show a tightening presidential race and Hillary Clinton struggles with perhaps the roughest patch of her campaign.
"The math for the Electoral College hasn't really changed" even as national surveys show Clinton's popular-vote lead shrinking from about 7-8 points to 3-5 points, Nathan Gonzales, editor and publisher of the Rothenberg and Gonzales Political Report, said in an interview
Clinton's apparent lead in two recent swing states—Colorado and Virgina—makes the "whole map very difficult for Trump," Gonzales said

For example, if Trump loses Colorado and Virginia, to reach the 270-electoral-vote magic number he almost assuredly has to win the other major states that have been fiercely contested in recent White House battles—Pennsylvania, Ohio, Florida and North Carolina: Gonzales
Any path Trump might take to the presidency inevitably leads through the Rust Belt and industrial Midwest—the places the Republican nominee describes as "rusting and rotting" war zones of manufacturing decline, Bloomberg's Steven Yaccino and Sasha Issenberg wrote today in a detailed analysis of the vote math in Pennsylvania, Ohio, and Michigan; read their piece on Trump's best shot at the Oval Office here

Clinton would have 72.5% chance of winning the election vs Trump if the election were held today, according to FiveThirtyEight's constantly shifting prediction model
The potential "game changer?" The debates, the first of which will occur on September 26, Gonzales said
It's still too early to tell whether Clinton's health issue or her calling half of Trump's supporters a "basket of deplorables" will change the campaign's outlook at all, he said
Jennifer Duffy, senior editor at nonpartisan Cook Political Report, said one surety for the remainder of the campaign is that Republicans will continue to "hammer away" on Clinton's "deplorables" remark, which she has partially walked back
It will "stick" like Mitt Romney's comment that surfaced during the 2012 campaign that "47 percent" of the U.S. was dependent on the government and thus inclined to back President Obama

Duffy said she doubted Clinton's comment would hurt her that much with independents, but "it's a way to keep Trump followers fired up, and for a campaign that doesn't have a field staff and not much of a ground operation in these battleground states, that's the kind of thing that's helpful to them"

Clinton's national lead over Trump fell 2 points since last week, to 48%-44%, according to latest NBC News|SurveyMonkey Weekly Election Tracking Poll

ON THE TRAIL
Trump today in Iowa said his campaign is making "very big progress"

Trump leads Clinton in the Hawkeye State by a bit less than a percentage point, the RealClearPolitics average of polls for that state shows; Obama won Iowa in 2008 and 2012; George W. Bush won it by a small margin in 2004 after narrowly losing it in 2000

Trump promised Iowans that if elected he would protect corn-based ethanol and help family farmers
Trump is set to campaign later today in the Philadelphia suburb of Aston, Pennsylvania, where he plans to unveil a childcare policy program that guarantees six weeks of paid maternity leave

Joining him at the event will be daughter Ivanka Trump, who spotlighted the maternity-leave issue in her speech to the GOP national convention in July

President Obama stumped for Clinton today in Philadelphia, where he criticized what he called Trump's adulation of Russian President Vladimir Putin

The choice in this year's presidential race is about "who we are as a people" and the "very meaning of America": Obama
Obama didn't mention Clinton's recent health troubles, but stressed her resiliency
"No matter how daunting the odds, no matter how many times people knock her down and mess with her, she does not quit," Obama said. "That's the Hillary that I know, and that's why I really want to get her elected"

Read full story on Obama's remarks here
In a 4-candidate race, Clinton holds a 5.8-point lead in Pennsylvania, according to RealClearPolitics poll average
Clinton remained off the trail today as she recovers from pneumonia at her New York home; last night she told CNN she didn't initially disclose her illness because she didn't think it was a "big deal"
Trump plans to visit Flint, Michigan, tomorrow, the Detroit News reported, citing a campaign aide

The real estate mogul first told Detroit News in a September 3 interview that he would visit water crisis-stricken Flint "at some point"; Clinton visited Flint twice last winter and highlighted the city's woes during the Democratic primaries

ADVERTISING
Priorities USA Action, the largest super-PAC supporting Clinton, is using Ronald Reagan against Trump in its latest battleground-state television ad, Politico reported

The ad depicting the GOP nominee as an promoter of violence hit hours after Trump's rally last night in North Carolina saw physical confrontations between protesters and supporters

Clinton's campaign announced two radio ads highlighting the Democratic nominee's focus on children and families; the spots will run in Florida, Ohio, Nevada, Iowa, New Hampshire, Pennsylvania. and North Carolina

POLLS
A poll conducted for Univision News by Bendixen & Amandi and the Tarrance Group showed Clinton's advantage over Trump in four key swing states among likely Latino voters

Clinton leads in Florida, 53%-29%, in Arizona, 68%-18%; in Colorado, 62%-17%; in Nevada, 65%-19%

ETC

CONGRESSIONAL ELECTIONS
TONIGHT'S PRIMARIES
NH-SEN: Republican Sen. Kelly Ayotte favored to beat former state legislator Jim Rubens and three other challengers, setting up long-anticipated matchup with Democratic Gov. Maggie Hassan
NH-01: GOP Rep. Frank Guinta faces four challengers after settling Federal Election Commission investigation into financing of his 2010 campaign

Guinta's campaign refunded $355k to his parents' bank account and paid $15k fine after FEC found he violated campaign law; he has touted himself as "independent-minded conservative" focused on N.H. heroin crisis
Businessman Rich Ashooh seen as Guinta's major challenger; he has bemoaned "legacy of scandal" and said "trust and integrity do matter"
Guinta win would pit him against Democrat Carol Shea-Porter for fourth straight election; Guinta won in 2010, lost in 2012, e-claimed seat in 2014

DE: Winner of six-candidate Democratic primary favored to win statewide district held by Rep. John Carney, Democratic nominee for governor

Candidates include state Sen. Bryan Townsend, ex-state labor secretary Lisa Blunt Rochester, Iraq War veteran/former Senate aide Sean Barney; GOP nominee is Hans Reigle, former small-town mayor
SENATE RACES (Republicans hold 54-46 majority)
AZ: Arizona Grassroots Action PAC, super-PAC backing Republican Sen. John McCain's re-election, said in TV ad that Democratic Rep. Ann Kirkpatrick support for Obama's health-care overhaul and Iran nuclear deal belie her claims of political independence

Kirkpatrick in statement said "I strongly disagree" with Obama's plan to veto legislation that would allow families of 9/11 victims to sue Saudi Arabia for liability in the attacks

FL: GOP Sen. Marco Rubio's campaign in TV ad said Democratic Rep. Patrick Murphy "has trouble with the truth," pointing to embellishments of professional accomplishments

Politifact in June analyzed attacks on Murphy's résumé, saying his "description of his past employment is based on actual circumstances, but at times he omits a full explanation"

IN: Ex-Sen. Evan Bayh in TV ad said he's never been lobbyist, worked to cut taxes/overhaul welfare while having "taken on the extremes of both parties"

Senate Leadership Fund, super-PAC backing GOP nominee Todd Young, released TV ad saying Democrat Bayh "cast the deciding vote for Obamacare," voted too frequently for agenda of ex-President Bill Clinton and Obama
In Dec. 2009, Senate advanced health-care overhaul with bare minimum of 60 votes from Bayh and other Democrats, any of whom could be described as having cast key vote in favor

NC: Senate Leadership Fund, which backs GOP Sen. Richard Burr, in TV ad said Democratic "politician" Deborah Ross "voted repeatedly to make community college more expensive"

Ross's campaign in statement criticized "special-interest funded effort to bail out" Burr campaign, said she supported legislation in state legislature to help needy students afford higher education

PA: Independence USA PAC, super-PAC funded by former NYC mayor Michael Bloomberg, released TV ad of three suburban Philadelphia prosecutors praising GOP Sen. Pat Toomey for supporting plan to expand gun background checks

Two of prosecutors are from Chester County, where Toomey's Democratic opponent Katie McGinty lives
Bloomberg is founder/majority owner of Bloomberg LP, parent company of Bloomberg News
HOUSE RACES (Republicans hold 246-186 majority)
CA-17: For Democratic Rep. Mike Honda, "it's time to go," and "Silicon Valley and the Bay Area need Ro Khanna in Congress," San Jose Mercury News editorial said in reiterating support for Democratic technology lawyer challenging Honda in rematch of close 2014 race

Khanna outran Honda in June primary, 39%-37%; both advanced to general election in heavily Democratic district under state's "Top 2" primary system

IA-01: House Majority PAC, Democratic super-PAC, in TV ad said Republicans such as Rep. Rod Blum "keep voting to raise Social Security's retirement age to 70"

Ad refers to Blum's March 2015 vote for conservative Republican Study Cmte's budget blueprint calling for lifting retirement age by two months per year to 70 to account for increased life expectancy
Blum opposed by Democrat Monica Vernon in Democratic-leaning district that includes Cedar Rapids, Dubuque

IL-10: Democratic ex-Rep. Brad Schneider's campaign in TV ad links Republican Rep. Bob Dold to House Speaker Paul Ryan and Senate Majority Leader Mitch McConnell, as narrator says "Dold and the Republicans" cast votes to jeopardize Medicare, the environment, abortion rights

Ad refers to Dold's votes in 2011 for nonbinding budget resolution written by Ryan and for efforts to ban federal funding of abortion
Dold, Schneider seeking Democratic-leaning district that includes Chicago's North Shore suburbs

IN-09: Republican businessman Trey Hollingsworth said in TV ad he's running for Congress to "change things and to bring business sense to government"

Ad is identical to spot Hollingsworth aired before May GOP primary, except newer ad's chyron calls him as "Republican businessman" and doesn't include Hollingsworth terming himself "an outsider and Christian conservative"
Hollingsworth and Democrat Shelli Yoder seeking Young's GOP-leaning district south of Indianapolis

LA-04: FreedomWorks PAC, fiscally conservative group with libertarian bent, endorsed GOP state Rep. Mike Johnson, according to release

Johnson among eight candidates vying to succeed GOP Rep. John Fleming, who's running for Senate, in all-party Nov. 8 primary in Shreveport-area district that leans Republican

ME-02: Democrat Emily Cain's campaign in TV ad said she worked with Republican Gov. Paul LePage to cut taxes and in Congress would "take on special interests and fight to stop our jobs from going overseas"

Cain, ex-state senator, opposing GOP Rep. Bruce Poliquin in rematch of 2014 race that Poliquin won 47%-42%

NY-21: GOP Rep. Elise Stefanik in TV ad emphasized bipartisanship, said she'll "cross party lines any day" to help military veterans and those who care for them

Stefanik touted her veterans' caregivers legislation, which House passed in May by uncontested voice vote
Stefanik seeks second term against Democrat Mike Derrick in northeastern district that voted 52%-46% for Obama in 2012 and includes Watertown, Plattsburgh, Lake Placid
Before it's here, it's on the Bloomberg Terminal.
LEARN MORE