business
U.K.'s Last Slump Shows How Brexit Impact May Be a Slow Burn
By
Analysis of 2008-2009 shows reactions took a while to show up

Economists warn Brexit-impact watching may be a long-term game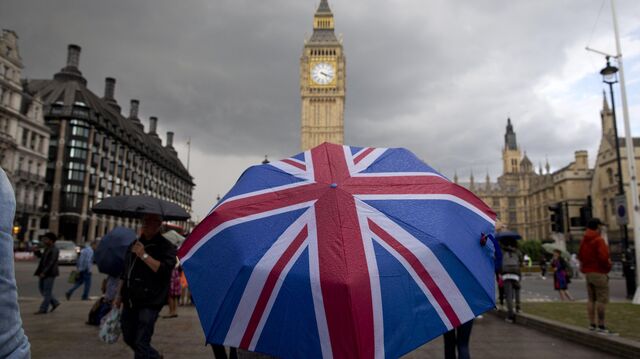 The U.K. economy is showing some signs of weathering the impact of the Brexit vote, at least in the short term. A look back at the country's last recession shows it may be far too early to declare the all-clear.
From job creation to investment to consumer savings, data from the 2008-2009 slump -- after the run on Northern Rock and the Lehman crisis -- find shocks can take time to feed through. While the circumstances are different now, there may still be insights for observers of Brexit as they scrutinize every statistic, and for those seeking to use the figures to reinforce their political arguments about leaving the European Union.
"At least one lesson that can be learned from then that could be applied today is that any real fundamental economic impact may not show up for a long time," said Philip Shaw, an economist at Investec Securities in London, who predicts no recession. "The common thread is that there are lags between events and the real economic consequences."
Nine years ago this week, Northern Rock had to be rescued by the Bank of England, sparking the first bank run in more than a century and hitting consumer sentiment. That heralded a credit crunch that took hold the following year, tipping the economy into recession. The slump lasted for five quarters and was the U.K.'s deepest since the 1930s, with gross domestic product falling more than 6 percent.

While the 2008-2009 drop in GDP was large, the loss of employment was less severe than previous downturns as companies initially continued to create jobs.

The lagged response may reflect the costs of hiring and firing, with employers wanting to be sure before they started to cut headcount. Also, some businesses were able to hoard labor as workers were more willing to trade lower wages to keep their jobs. This time, companies may be waiting for exit talks and some clarity on the U.K.'s new trading relationship with the EU before taking steps.

The outlook for business investment has deteriorated since the June vote, according to industry reports. While some projects may go ahead, weakening sentiment means there's a greater risk surrounding companies' proposed plans. The BOE has taken that into account and expects investment to drop in the second half of 2016. There may be no quick rebound either: it forecasts a 2 percent drop in 2017 having previously anticipated a 7 percent increase.

Households' saving decisions will play a key role in determining whether the economy slips into recession, according to Pantheon Macroeconomics' Samuel Tombs. The previous three U.K. slowdowns have coincided with sharp increases in the amount of money consumers squirreled away.

As Britons decided to build up their finances in 2008-2009 rather than spend, big-ticket purchases and retail sales took a hit. There may be a slow pass-through to consumer activity this time as the weaker pound filters through to prices.
"The principle impact on consumer spending will be that reduction in real-purchasing power that comes through the sterling-induced rise in inflation," Investec's Shaw said. "That's not something that is going to be an immediate feature of the data and is probably going to be a 2017 story."

In light of the economy's resilience so far, Bank of America-Merrill Lynch, Morgan Stanley and others revised their growth forecasts in recent weeks. Bank of America has shifted its view from a near-term drop followed by recovery to predict a longer period of soft growth. There will be a "less acute but more chronic shock" as the post-Brexit world is slowly revealed, it said.
"Some of the pain has been delayed," economists including Rob Wood and Gilles Moec wrote in a note to clients this week. "A big chunk of the Brexit shock has not even begun feeding through yet."
Sign up to receive the Brexit Bulletin, a daily briefing on the biggest news related to Britain's departure from the EU.
— With assistance by Andrew Atkinson
Before it's here, it's on the Bloomberg Terminal.
LEARN MORE