U.K. Power Price Goes From Nothing to 3-Year High in 24 Hours
by
Low wind generation sent prices for Tuesday to 3-year high

Higher wind output on Sunday sent balancing costs negative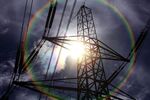 Volatility is hitting the U.K. power market, with prices swinging from below zero to the highest in more than three years within 24 hours.
Tuesday's lowest wind generation in more than two weeks and warm weather in the southeast pushed Monday's auction price to the highest since March 2013. Just 24 hours earlier, system prices, or the cost of balancing the market, turned negative amid relatively high amounts of wind and low weekend demand.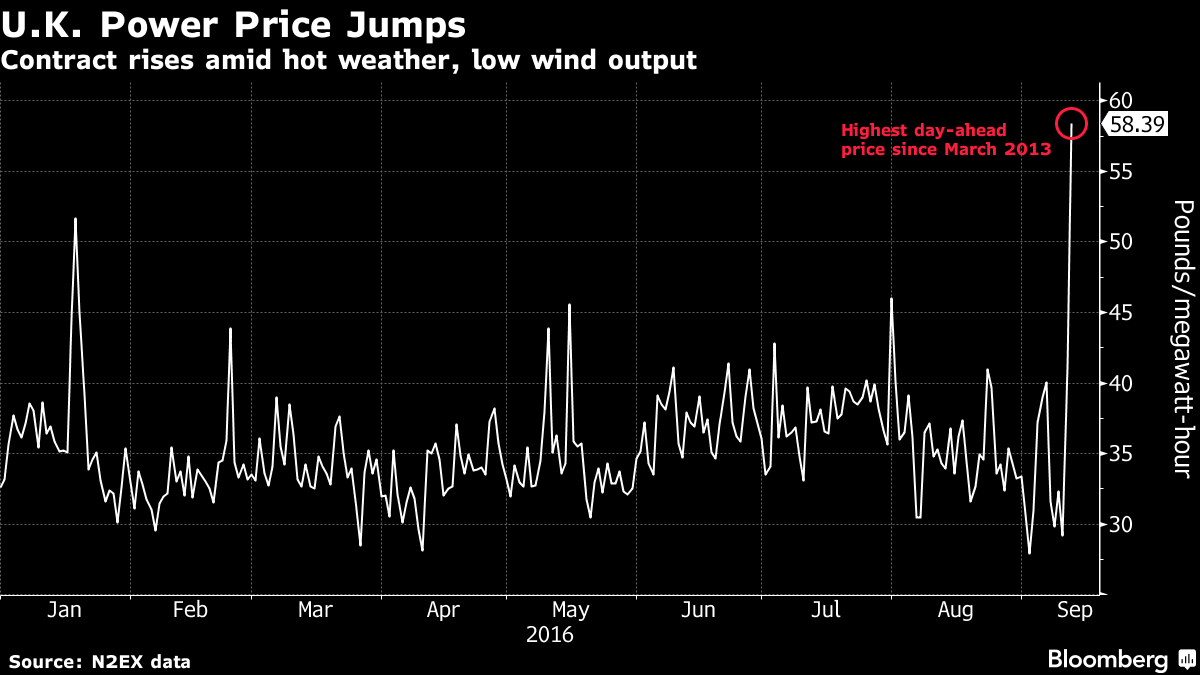 The price swings stem from whether or not more expensive coal is needed for power generation, according to Catalyst Commodities Ltd. The U.K. has switched to burning natural gas as its main source of electricity after prices dropped to the lowest since 2009 and network operator National Grid Plc was able to meet demand without calling on coal-fired stations. 
The difference between gas and coal generation costs "has had a huge effect on price volatility in recent weeks," said Paul Monk, a partner at London-based Catalyst Commodities.
The profitability of gas plants, known as the clean-spark spread, was 10.49 pounds ($13.91) a megawatt-hour for October compared with 1.89 pounds for coal stations, according to Bloomberg calculations. The measure for gas for next summer is 4.68 pounds compared with 0.88 pounds for coal, the data show.
Day-ahead power jumped to 58.39 pounds a megawatt-hour in an auction on the N2EX exchange on Monday, the highest since March 26, 2013. System prices on Sunday declined as low as minus 72 pounds a megawatt-hour at 12:30 p.m., National Grid data show.
The U.K. is expected to have the tightest supply buffer on record this winter, which will increase price volatility during the season, according to Timera Energy. National Grid has contracted 10 power stations to use as backup in emergency situations that it will probably need to use.
"There is a significant possibility that system stress this winter will require Grid to call emergency reserve capacity to maintain security of supply," Timera said in a blog on its website.
Britain may face problems meeting power demand even before the reserve agreements start in November. Margins are tight for September and October with availability of gas-fired generation set to drop to the lowest since April 2009 this month as companies from SSE Plc to RWE AG halt plants before the peak demand season, according to S&P Global Platts.
Before it's here, it's on the Bloomberg Terminal.
LEARN MORE