business
Parliament Must Play Key Role in Brexit Process, Lords Say
By
Upper house's Constitution Committee seeks influence on talks

May's spokeswoman rejects call for lawmakers' involvement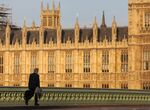 The U.K. government should only trigger the process of withdrawing from the European Union with parliamentary approval, as acting without the backing of lawmakers would set a "disturbing precedent," the House of Lords said.
Failure to consult Parliament before invoking Article 50 of the EU's Lisbon Treaty would be "constitutionally inappropriate," the unelected upper chamber's Constitution Committee said in a report published in London on Tuesday. It also said that while legally, June's Brexit referendum was only advisory, the government has a commitment, outlined in the Conservative Party's election program, to implement the result.
"Our constitution is built on the principle of parliamentary sovereignty and the decision to act following the referendum should be taken by Parliament," the committee's chairman, Ian Lang, said in a statement. "Parliament and the government will need to work together to ensure that the U.K. achieves the best possible outcome when it withdraws from the EU. It is therefore important that Parliament plays a key role in scrutinizing the Brexit negotiations once Article 50 is triggered."
Prime Minister Theresa May is coming under increasing pressure to reveal when she intends to trigger Article 50, which would lead to the U.K. exiting the EU within two years. May has said she is committed to Brexit but won't invoke the exit clause before the end of the year.
May's spokeswoman, Helen Bower, said the government "takes a different view" from the committee and said the decision is one for the executive, not for Parliament.
"Both houses of Parliament decided to put the decision about whether we remain a member of the European Union in the hands of the British people," Bower told reporters in London. "Now we need to get on with delivering that decision."
Sign up to receive the Brexit Bulletin, a daily briefing on the biggest news related to Britain's departure from the EU.
— With assistance by Thomas Penny
(
Updates with government reaction starting in fifth paragraph.
)
Before it's here, it's on the Bloomberg Terminal.
LEARN MORE