U.K. Inflation Holds at 0.6% as Import Price Pressures Build
By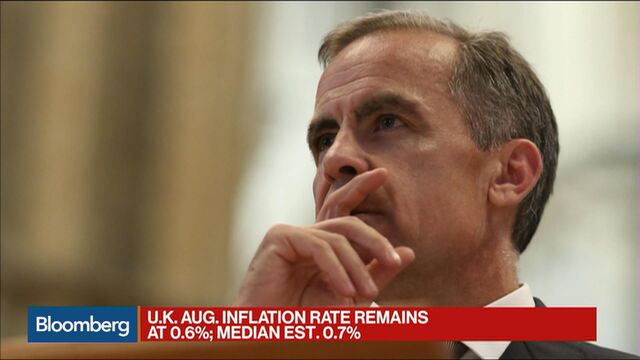 U.K. inflation was unexpectedly unchanged in August, though more signs emerged of imported price pressures because of the weaker pound, according to figures from the Office for National Statistics.
Key Points

Inflation rate remained at 0.6 percent (median forecast was 0.7 percent)
Biggest upward increase was from food, air fares and a smaller decline in motor fuels compared with year earlier
Core inflation held at 1.3% (median forecast was 1.4 percent)
Input prices rose an annual 7.6 percent and import costs increased 9.3 percent. Both rates were the fastest since 2011

Big Picture
The pound has dropped more than 10 percent since the U.K. voted in June to leave the European Union, and Bank of England Governor Mark Carney has warned that this will fuel faster inflation. But the BOE has prioritized supporting the economy, cutting interest rates last month for the first time in seven years as part of a new stimulus package. Officials announce their next decision on Thursday, when they are forecast to keep policy unchanged as they assess the outlook for the economy since the Brexit vote.
Economist Takeaways
"Today's reading is a lesson that patience is a virtue," said Alan Clarke, an economist at Scotiabank in London. "It is only two months since the Brexit vote. It takes much longer than that for the impact of currency weakness to feed through to end customer prices."
"The sterling depreciation is feeding through into the inflationary pipeline, it's really a question of when," Rob Wood, chief U.K economist at Bank of America Merrill Lynch, said on Bloomberg Television. The "textbook strategy" is for the BOE to look through the increase, he said. "If you have a rise in import prices that isn't reflected in wages, then you can just wait for it to drop out again."
Other Details


Within input prices, the 12-month increase was led by crude oil, food and imports of metals, parts and equipment
ONS says raw material costs are rising "partly due to the falling value of the pound, though there is little sign of this feeding through to consumer prices yet"
Producer prices increased 0.1 percent in August from July and were up 0.8 percent from a year earlier. That's the biggest annual jump since January 2014
Retail-prices index rises 1.8 percent year-on-year (matching median forecast) after a 1.9 percent increase in July
— With assistance by Mark Evans, Mark Barton, and Scott Hamilton
Before it's here, it's on the Bloomberg Terminal.
LEARN MORE