Fed's Brainard Tells Trump to Back Off After Criticism of Yellen
by
Fed points to market data, where Trump cites rates experience

'I was there with Jimmy Carter' when Fed funds neared 20%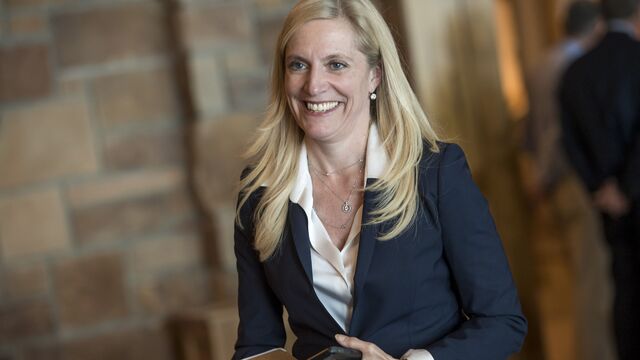 Donald Trump's week began with a call to CNBC. He shared, among other things, his thoughts on monetary policy. "She should be ashamed of herself," he said of Federal Reserve Chair Janet Yellen. He accused her of keeping interest rates "artificially low" to help the president.
Speaking in Chicago later on Monday, Fed Governor Lael Brainard responded. Obliquely. "The institution is designed to ensure that independence from the executive branch is absolutely the focus of the deliberations of the FOMC," she said.
Or, loosely translated from Fedspeak: "Back off."
Buried under Trump's casual dismissal of Fed independence, however, is an honest-to-goodness substantive policy debate. Brainard consistently argues for keeping rates low, on the grounds that the Fed needs to adjust to a "new normal," a set of economic conditions without recent precedent. Trump's take assumes the Fed can and will return to the "old normal," jacking rates higher every few years, as it did for decades before the financial crisis.
When he isn't insulting the current Fed chair, Trump -- who'll get to pick the next one in 2018, if he wins in November -- is uncharacteristically consistent on monetary policy. He spent the first half of his career almost exclusively in real estate, a profession that demands close attention to the price of debt. And he's not just a real estate guy, he's an old real estate guy. Because he remembers where interest rates have been, it's easier for him to believe that they'll definitely be headed that way again someday.
"Hey, I was there with Jimmy Carter," the 70-year-old Trump told the CNBC anchor. "I think the prime rate went to 21, 22 percent. You're probably too young to remember those days."
This writer is, but has access to data that show the federal funds effective rate spiking to around 20 percent in early 1980. That would put Trump's borrowing rate right about where he remembers it. (The fed funds rate peaked above 22 percent, but that was after Ronald Reagan took office.)

Trump pointed out, as the nonpartisan Congressional Budget Office has, that if interest rates rise again, the cost of financing federal debt could become a burden.
The CBO predicts that interest on the federal debt could rise from 1.4 percent of gross domestic product now to 3 percent over the next decade. Trump opted for metaphor over numbers. He said America's attitude to the cost of federal debt is like a ballplayer who had one good season and assumed it would last forever. Trump knows there can be bad seasons. He's seen them.
Brainard's Chicago speech, however, raised the prospect that the ballplayer could hit like this for another decade.
The Fed has been unable to reach its inflation target, she said, and consumer inflation expectations are at historic lows. The share of prime-age Americans outside the workforce is still above pre-crisis levels; so is the share of people who feel under-employed. The U.S. can't insulate itself from weak demand abroad. 
'At the Coalface'
And the forecasters at the Fed, she said, have been picking through this basket of deplorable economic indicators and wondering what they mean for the "natural rate of interest." This is the return that a safe investment should earn, absent any policy intervention. Inconveniently, it can't be measured, only estimated. It remains "considerably and consistently lower than it was before the crisis," Brainard said. Her reasoning: if rates this low can't spur economic growth much above 2 percent, or average inflation above 1.5 percent, then the world has changed.
"It is difficult not to conclude that the federal funds rate is less accommodative today than it would have been 10 years ago," Brainard said. The fed funds rate isn't low, she's saying: The natural rate of interest is. The Federal Open Market Committee isn't dragging interest rates down. It's being dragged. Moreover, it will remain dragged for the forecastable future. The Fed has dropped its long-run projection of the neutral federal funds rate from 4.5 percent to 3 percent.
Trump is saying the world is as he remembers it: interest rates can and must rise.
"For all of the faults actual or perceived about Donald Trump, he does have a wealth of experience," Atul Lele, the chief investment officer at Deltec International Group, said in an interview. "He has dealt with higher interest rates, and has been at the coal face of where rates should be." Trump is part of a generation accustomed to borrowing at 15 percent, Lele said, so he feels that "this environment where you're borrowing for 30 years at four percent, it's unnatural."
The same day in Washington, Jamie Dimon, the 60-year-old chief executive of JPMorgan Chase & Co., mused that he, too, would love to be president. Then he, too, urged the Fed to raise rates. "Normality is a good thing, not a bad thing," he said. "The return to normal is a good thing."
Like Trump, Dimon has been in the game a long time. Brainard's point, on Monday in Chicago, was that normal isn't what it used to be.
Before it's here, it's on the Bloomberg Terminal.
LEARN MORE