Battlegrounds
Tracing Donald Trump's Rust-Belt Route
Trump's best shot at the Oval Office is to convert white, working-class Democratic men in places like Pennsylvania, Ohio, and Michigan. But the arithmetic works better in some states than others.
By and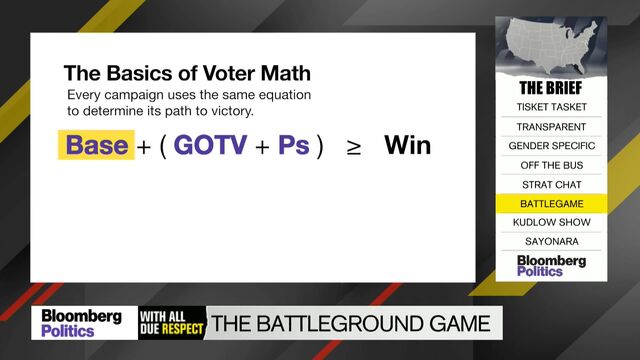 Any path Donald Trump might take to the presidency inevitably leads through the Rust Belt and industrial Midwest—the places the Republican nominee describes as "rusting and rotting" war zones of manufacturing decline. This is the America he wants to make great again.
The strategists and schedulers of both campaigns have made this focus abundantly clear. Since the parties' conventions this summer, the candidates and their running mates have held nearly 40 campaign events in Pennsylvania, Ohio, and Michigan alone—averaging at least one every other day when you count surrogate appearances from Vice President Joe Biden, the Obama-Clinton machine's designated working-man whisperer. 
To explore these three states—tethered by shared economic wounds, but each with its own complexities—Bloomberg Politics mined the same databases campaigns use to sort through the electorate. Our quest was to find the disaffected, currently Democratic, working-class white males Trump appears to be wooing with his appeals to economic angst—and the ones he'll need to change the electoral arithmetic in the states in question.

It's over these voters that the fiercest campaign battles will be fought—indeed the battles have already begun, waged with TV ads, candidate visits, and staff on the ground. We wanted to know how many are out there, where the campaigns might find them, and how they fit into the broader electoral math that will determine who carries these key states.

There are plenty of reasons why Pennsylvania has been seen as swingier than in years past—41,767 reasons, to be precise. That's the number of layoffs reported due to large plant closings across the state since the beginning of 2015—more than Michigan and Ohio combined.
Layoff numbers like this belie President Barack Obama's sunnier economic narrative, creating personal stories of economic disaster that can resonate among friends and neighbors. These communities, and the white men living in them, are especially ripe for Trump to poach from the Democratic coalition. And to win, Trump certainly needs to change the arithmetic in Pennsylvania. The state hasn't voted for a Republican presidential candidate since the late 1980s, and the math is straightforward: Democrats simply have more potential voters. They can count on a base of nearly 1.69 million votes, and—thanks in part to overwhelming support from African-Americans in Philadelphia—another 1.37 million less-reliable voters who can be mobilized through get-out-the-vote work. In 2012, Obama carried the state by 5 points.
If Hillary Clinton manages to turn out all of the Democratic base and get-out-the-vote targets, she would have more than 3 million votes in her pocket without having to win over a single persuadable voter.
And Trump could run a perfect ground game, miraculously turn out all his Republican targets, win every expected persuadable vote cast—projected to be around 187,000—and still lose.
That means that the difference between a battleground and a blowout in Pennsylvania is whether Trump can peel off Democrats. The most obvious targets are the some 300,000 white blue-collar men living in areas most affected by shuttered plants. If, say, Trump were able to lure this entire group, it would be enough to flip Democrats' 556,000-voter lead to an ever-so-slight 21,000 Republican advantage.
He's most likely to go hunting for them in southwestern Pennsylvania, home to more than 16 percent of voters statewide. The region has seen more than half the state's total job loss due to large factory closings, amounting to one layoff per every 65 registered voters. Roughly 83,700 of the region's nearly 1.4 million voters are white Democratic-leaning men with no college degree—a big chunk of the defections Trump needs to put a Pennsylvania victory back in play.  

Similar messages are echoing across the Ohio border, where Republicans and Democrats start closer to numerical parity. Each party coalition—across its base and mobilization targets—has around 2.4 million potential voters.
The reason Ohio is the definitive battleground state is that there are close to 500,000 persuadable voters—nearly three times as many as will likely vote next door in Pennsylvania.
These types of voters were not kind to Democrats four years ago. But even though Obama got crushed among independent voters in Ohio by 10 points in 2012 (according to exit polls), he still won the state. That's possible because while the Republicans have a larger base, the universe of less-reliable voters dramatically favors Democrats, allowing their campaigns to make up ground with the help of superior turnout operations. 
This year, Clinton starts off with 1.3 million core voters in Ohio. If she loses persuadables by the same margins that Obama lost independents in 2012, she would need to turn out practically all of her unreliable Democrat-leaning voters to keep Ohio blue. If Trump can steal some of the nearly 222,000 working-class white men who are expected to vote for Clinton, Democrats may have to start looking for votes in a place most campaigns are loath to seek out targets: among the nearly 1 million Ohioans who are not regular voters and also not obviously tied to one party or the other—an especially difficult, costly bunch to persuade and mobilize.
Numbers like this explain why the Clinton has spent more on TV advertising in Ohio than in any battleground state except Florida—more than $13.5 million since mid-June. Her team is shelling out more than $1 million a week on spots that, among other messages, promise high-wage manufacturing jobs and trash the Republican nominee for manufacturing his clothing line overseas.
Trump's campaign only started buying airtime last month, but he's now rivaling Clinton's numbers—in all, he's laid out more than $2 million on Ohio TV, primarily on a 30-second spot about the economy. "In Hillary Clinton's America, the middle class gets crushed," begins the ad. "Spending goes up, taxes go up, hundreds of thousands of jobs disappear. It's more of the same, but worse."
While the economy in Ohio has rebounded more than in other Rust Belt states, it has not been immune to hardships. Large plants and factories have recorded close to 16,000 layoffs as a result of closings in the past two years. Many of them plagued the Cleveland area. Candidates blitzed this region on Labor Day, their campaigns nearly colliding on the airport tarmac amid the scramble to speak to working-class voters.
In a state this competitive, the slightest defections from either side could be dispositive. If Trump manages to pull distressed white working-class Democratic men to his side, it could give him a greater-than-400,000-voter advantage—more than Republicans traditionally have in red states like South Carolina and Missouri.

From the outside, Michigan looks like fertile terrain for Trump's anti-trade, "America First" mantra. Plant closings have led to slightly more than 14,000 layoffs here over the past two years, bringing economic pain to communities home to a total of more than 5 million voters.
Tucked in among them are about 189,000 Democratic white men without college degrees, whom Trump appears to be targeting on television. Michigan ranks eighth on the list of states seeing Trump's ads—he's spending as much, if not more, there than in some toss-up states where he has a better chance of winning—though this month his total spending in Michigan has been just under a modest $600,000.
There's good reason why the state has been less visited by candidates than its Lake Erie neighbors. As in Pennsylvania, the relative size of the two coalitions is such that if Democrats turned out their base and all of their get-out-the-vote targets, Clinton wouldn't even need support from persuadable voters to win. 
What makes Michigan still more daunting for Trump is its shallow pool of roughly 337,000 less-reliable Republicans, one-third the number of mobilization targets available to Democrats. This explains why the state is so much more competitive for Republican candidates during midterm elections—when less-reliable voters tend not to turn out—than presidential races, and why recent nominees who once hoped to compete there often end up abandoning their efforts well before election day.
Trump would need to run the table with unreliable Republicans and win a large portion of persuadable voters to have a chance at a Michigan victory. Even then, converting white working-class male Democrats in economically challenged areas—70 percent of whom live in and around Detroit—is his best shot at crossing the finish line.
This is the first in a series of eight Battlegrounds 2016 stories on the unique arithmetic that governs presidential elections in battleground states. Read more about how the battleground game is played.

—With assistance from Andre Tartar, and additional research by Tyler Kendall.
Before it's here, it's on the Bloomberg Terminal.
LEARN MORE