business
May's Boutique Brexit Deal Might Take Longer Than Wished For
By
'Transitional arrangements' needed to avert WTO rules: Teneo

Norway is 'least bad option' as model for interim agreement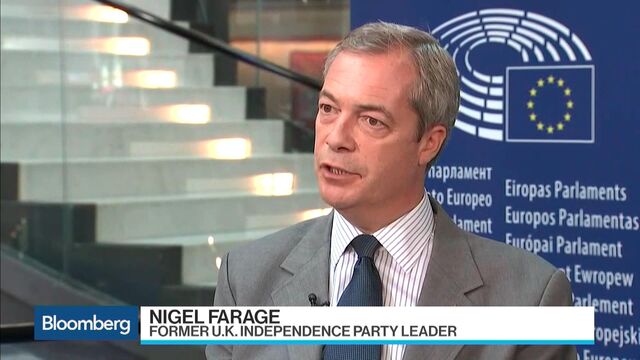 Theresa May is about to discover that breaking up is not the hardest thing to do.
As Brexit Secretary David Davis declares the U.K. can be "nimble" in establishing a fresh free-trade accord with the European Union at the same time as it quits the bloc, lawmakers and bankers are warning the prime minister that a new relationship will almost certainly take longer to establish.

Failure to seal a new pact before Brexit occurs threatens to harm the U.K. economy as manufacturers potentially find themselves slapped with tariffs and service-providers lose access to the EU. That risk is fanning calls for May to seek a short-term agreement, perhaps similar to Norway's, to protect the economy and win time to secure a more permanent deal.
"The U.K. can potentially be relatively nimble in extracting itself from the EU, but the question is how quickly can it replace the status quo in terms of cross-border trade with a new framework," said Stephen Adams, a partner at Global Counsel in London and a former adviser at the European Commission. "If we're looking at a disruptive gap, then the question becomes whether a transitional arrangement is possible."

Time is not on May's side. While she has pledged not to start formal talks until 2017, once she does she has just two years to pull the U.K. from rules and regulations four-decades in the making.
As she does so the question will be asked, what comes next given EU members buy 44 percent of Britain's exports. May talks of a bespoke deal that will prove the best possible for the economy so long as she gets to control immigration, twin ambitions that governments in countries from Germany to Poland have signaled are incompatible.
"It is extremely unlikely that every single country will give the U.K. an easy ride in the negotiations," Nick Clegg, the U.K.'s former deputy prime minister, wrote in a report this month.
Even if the separation agreement can be established without rancor, past performance suggests no free-trade accord can be struck speedily given the complexities involved. Clegg predicts "several years" of horse-trading.
Swiss Relations
The EU discussed a free-trade deal with Canada for the past seven years, yet it's still to be ratified and contains few provisions for services, a driver of the U.K. economy. The bloc's relationship with Switzerland is governed by 20 major agreements and 100 side ones. Indeed, a Morgan Stanley study found the 1958 Treaty of Rome was the EU's only major accord settled in less than 24 months.
Even if a deal could be sealed, it would need to be rubber-stamped by all 27 states as well as the parliaments of the U.K. and Europe, with May also likely keen to secure the buy-in of domestic companies first. Prior to becoming Chancellor of the Exchequer, Philip Hammond said Brexit plus a new trade pact could take six years to achieve.

The risk for Britain is that if it ejects from the EU before establishing new ties, commerce will automatically be governed by World Trade Organization rules. In a report prior to the June 23 referendum, the U.K. Treasury called this a "shock scenario," estimating it would cost 7.5 percent loss of economic output over 15 years and cause 800,000 job losses in six years.
That's because an average tariff of 5.3 percent on British goods and about 10 percent for cars would be imposed, hurting exporters and putting them at a competitive disadvantage to rivals elsewhere.
WTO Rules
Although the U.K. could drop its taxes on European products to zero and hope for that to be matched, WTO rules require it to then do so for other members, undermining Britain's ability to negotiate deals elsewhere.
More customs checks, non-tariff barriers and a requirement to prove goods comply with European rules would only add to the cost. And that's just for producers of goods; service-providers would lose access too with banks already worried about the loss of the right to sell their services in the EU.
"If the application of WTO rules is to be prevented, some basic transitional arrangements have to be in place," said Carsten Nickel, an analyst for Teneo Intelligence in Brussels. "However, with Westminster not even anywhere near a date for the triggering of Article 50, there has been worryingly little discussion of this vital issue."
To be sure, not all are worried. Davis said this week that the U.K. could be "nimble, fast and responsive" in getting a deal done. The U.K. could end up relying on WTO rules, but that's not a "likely outcome," he said.
'Hard' Brexit
Lawmaker John Redwood and Tim Martin of the JD Wetherspoon Plc pub chain are among those arguing for a "hard Brexit." Their rationale is the EU sells far more goods to the U.K. than the U.K. sells back so a free trade deal is either not important or in the interest of the EU too.
"I'm delighted to be out and don't think we have to negotiate anything," James Dyson, the pro-Brexit vacuum cleaner entrepreneur told the Daily Telegraph on Wednesday. "I know exactly what I would do if I was running the country. I would leave and then, over a period of time, I would negotiate things."
Among those who are more concerned, Robin Niblett, director of the Chatham House think tank, urges May to delay formal negotiations for as long as feasible. Malcolm Barr, an economist at JPMorgan Chase & Co., suggests trying to win an extension for the Article 50 talks beyond two years.
Sign up to receive the Brexit Bulletin, a daily briefing on the biggest news related to Britain's departure from the EU.
The upshot may be that May needs a stop-gap. Banks are already requesting one for their industry to safeguard access and Japan's government has recommended a plan for a "provisional period" if needed to avoid uncertainty for businesses.
"The materials that are being moved are risky materials," Bank of America Corp.'s president for Europe, Alex Wilmot-Sitwell, told U.K. lawmakers at a parliamentary hearing on Wednesday. "You don't move nuclear waste in a race. You do it in a very carefully coordinated and managed process. The materials are perfectly safe, so long as they are properly handled and so long as the period of time to move them is suitable."
The "least bad option" is mimicking Norway, according to Clegg. That means extending membership of the single market while allowing Britain to have trade deals outside, at the price of losing the ability to shape rules and likely still having to contribute to the EU budget.
"There are no obviously better choices on offer," said Clegg.
(
Adds comments from Dyson, Bank of America.
)
Before it's here, it's on the Bloomberg Terminal.
LEARN MORE