markets
The One Question That Clients Aren't Asking Reveals Complacency in the Bond Market
What interest rate risk?
By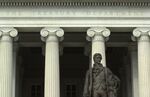 When clients quiz investment strategists and advisors, sometimes it's the questions they don't ask that reveal their deepest convictions about the state of market.
Such is the case for Charles Schwab & Co. Chief Fixed Income Strategist Kathy Jones, who said customers appear to have capitulated to the idea of a persistently low-yield environment over the past year.
"I think the one big change, I would say, over the last year, is it used to be people were really concerned about interest rate risk, and we'd talk about 'lower for longer' and they'd shake their heads and say, 'No, I know inflation's coming back, I know yields are going up…' and over the last year, I haven't heard that nearly as much," she said during an interview in New York on Tuesday morning. "People seem reconciled to low interest rates, which maybe makes them vulnerable."
Despite surging in recent sessions, yields on advanced economies' sovereign debt have generally moved lower, defying calls that the initiation of a tightening cycle by the Federal Reserve in December would end the decades-long bull market.
This new-found complacency among retail investors somewhat reflects a similar evolution at the Fed.
Since the initiation of the "dot plot" in January 2012, Fed officials' median estimate of where their policy rate will end up over the long term have dropped from 4.25 percent to 3 percent. Only one member of the Federal Open Market Committee thought this neutral rate was below 4 percent in January 2012; now none think it's above that level.
Monetary policymakers have come around to the notion that slow growth is not just a legacy of financial crisis-induced headwinds, but indicative of demographic and structural forces adversely affecting the U.S. economy's top speed.
Fed Chair Janet Yellen has referred to this macroeconomic backdrop as a "new normal," which Governor Lael Brainard recently argued "counsels prudence in the removal of policy accommodation."
Overnight index forward swap rates suggest that this view had also been increasingly entrenched into the market's psyche over the past year ahead of the recent long bond tumult, as very little tightening is priced in for the near term or even years down the road.

To be sure, Jones does not expect the Fed to move very aggressively in tightening policy, anticipating a rate hike in December and roughly two per year as the expansion continues to progress.
But at some point, this "very strange market" will need to recalibrate its expectations on interest rate or credit risk, said Jones — and hopefully not both at the same time.
"Year-to-date, total returns in every area of the fixed income market are strong, really positive, whether it's Treasuries, whether it's high yield, whether it's preferreds, emerging markets, everything's done great," she concluded. "That doesn't normally happen. You don't normally have long Treasuries producing double digit returns and high yield at the same time."
Before it's here, it's on the Bloomberg Terminal.
LEARN MORE