markets
Super-Typhoon on Course to Pummel Taiwan Before Holiday Weekend
By
Island issued a land warning on Tuesday as winds top 263 kph

Philippines raised lowest storm alert yesterday in Batane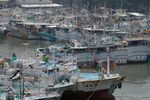 Taiwan warned residents to take precautions against strong winds and heavy rains as a storm barreled toward the island for a Wednesday strike, one day before a major holiday.
Super-typhoon Meranti recorded wind speeds as high as 263 kilometers per hour (163 miles per hour) as of 12 p.m. on Tuesday, according to Taiwan's Central Weather Bureau. Southern Taiwan is projected to feel the impact of the storm from Tuesday night. Financial markets, schools, and offices will be closed on Thursday and Friday to mark the Mid-Autumn Festival, a time when travelers increase as families gather.
The storm is currently only the second typhoon this year to trigger Taiwan government's land and sea warnings. Nepartak in July killed two people and forced financial markets, schools and other businesses to close. In 2009, Typhoon Morakot killed more than 600 people and caused the administration of then-President Ma Ying-jeou to replace his premier for bungling recovery efforts.
On Sept. 12, the Philippines raised the lowest storm alert in its northern province of Batane. China's national meteorological center expects Meranti to make landfall as early as Thursday morning in its coastal provinces of Fujian and Guangdong. On that day, Hong Kong will likely issue a Strong Wind Signal No. 3, the second-lowest on the scale, Radio Television Hong Kong reported Tuesday, citing the city's observatory.
The Joint Typhoon Warning Center, operated by the U.S. Navy, designated the storm as a super-typhoon. It expected the storm to weaken as it crosses Taiwan and to make landfall in southern China as a strong typhoon.
Before it's here, it's on the Bloomberg Terminal.
LEARN MORE