South Korea Halts Reactors, Factories After Two Earthquakes
By
Second tremor at 5.8 magnitude was strongest ever recorded

No serious injuries or damage reported: government officials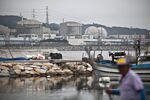 South Korea suspended the operations of four nuclear reactors and almost a dozen factories for safety checks after back-to-back earthquakes jolted the country Monday. There were no reports of serious injuries or damage from the quakes, government officials said.
The Korea Meteorological Administration said the quakes -- centered near the historic city of Gyeongju about 270 kilometers (168 miles) southeast of Seoul -- measured 5.1 and 5.8 in magnitude. The second quake, which hit 48 minutes after the first at 8:32 p.m. local time, was the strongest since the country began recording tremors in 1978.
Several manufacturers with factories near Gyeongju temporarily halted production to check for damage. In all, 11 companies temporarily halted production, but most of them had resumed operations as of Tuesday morning, the Ministry of Trade, Industry and Energy said in an e-mailed statement.
Four nuclear reactors at the Wolsong power complex were being checked for damage Tuesday morning. Operations at other nuclear plants didn't appear to be affected, Korea Hydro & Nuclear Power Co. said in a statement posted on its website. South Korea has 24 nuclear power plants.
Local television showed buildings with small cracks and videos of products falling off grocery store shelves. While the brunt of the quake was felt near Gyeongju, large areas of the country, including Seoul, also felt the tremors.
Before it's here, it's on the Bloomberg Terminal.
LEARN MORE