Salesforce CEO: Oracle's Deal for NetSuite 'Desperation Move'
by and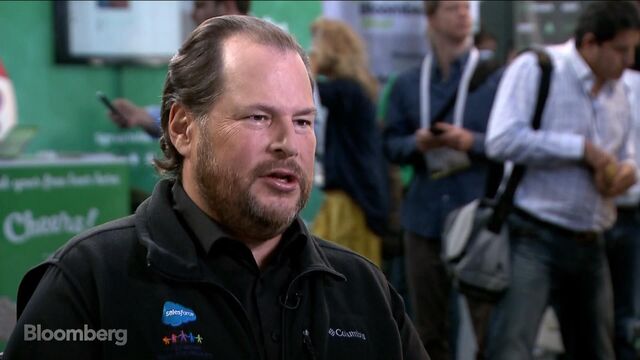 Salesforce.com Inc. Chief Executive Officer Marc Benioff called rival Oracle Corp.'s planned purchase of NetSuite Inc. a "desperation move" to bolster sales of cloud-based tools -- even as acquisition activity heats up across the software industry.
"Oracle's making a desperation move," Benioff said Tuesday during an interview on Bloomberg Television. Oracle Chairman Larry Ellison "basically said, 'I want that,' and now he's going to be able to boost his cloud revenue -- and try to make his $10 billion goal. He still may not be able to make it."
Oracle said in July it will pay $9.3 billion for NetSuite, one of the first cloud-services companies. The addition will help Oracle compete against the likes of Salesforce, Microsoft Corp. and SAP SE. Oracle declined to comment on Benioff's remarks.
Benioff has been more aggressive this year with acquisitions for San Francisco-based Salesforce, looking for new ways to boost revenue and improve the company's lineup of business management products. Salesforce, whose corporate software is hosted on and accessed via the internet, has announced or completed deals worth more than about $3.5 billion since February, compared with just $60.1 million net of cash in the fiscal year that ended Jan. 31.
Benioff hasn't won every deal. He lost out on the $26.2 billion acquisition of LinkedIn Corp. by Microsoft, in the biggest tech takeover unveiled so far this year. Asked Tuesday about his pursuit of LinkedIn, Benioff, citing his rival's massive size, said "you can't win them all."
While he might have been outbid, Benioff said he doesn't think the deal made Microsoft a more formidable competitor. He said Salesforce is in a great spot, even as Microsoft announced Tuesday that it had won a contract with HP Inc. for customer relationship management software.
"The vast majority of CRM deals we win," Benioff said. "We're never going to win them all, but we win most. That's the most important thing for Salesforce."
With its deal for NetSuite, Oracle is also going after more CRM contracts. NetSuite's stock is trading higher than the proposed deal price -- and the amount of the purchase will probably increase, according to Patrick Walravens, an analyst with JMP Securities.
Before it's here, it's on the Bloomberg Terminal.
LEARN MORE