Ryan Joins Pence to Back Ticket While Staying Away From Trump
By
Vice presidential nominee meets with House Republican caucus

Ryan has avoided public appearances with his party's nominee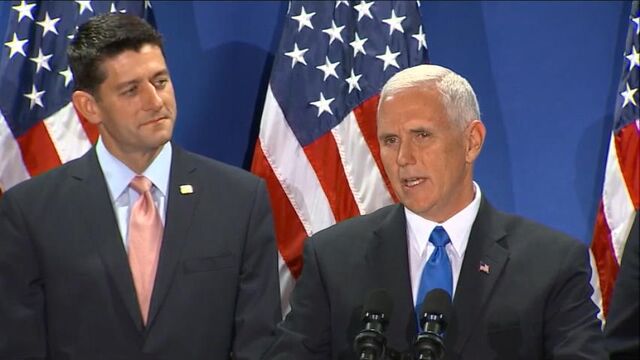 House Speaker Paul Ryan has never appeared in public with Donald Trump, but the Wisconsin Republican stood Tuesday morning with vice presidential nominee Mike Pence and other House leaders to support the campaign.
"Mike Pence is a friend. Mike Pence is a former colleague. He is working with all of us to make sure we are putting this country back on track," Ryan told reporters after the meeting. "We feel the wind at our backs."
Pence addressed House Republicans behind closed doors Tuesday, describing Trump as a "man of the Lord" and recounting how their families prayed together, according to members in the room.
The mood was largely welcoming, although one Republican lawmaker, Jeff Fortenberry of Nebraska, asked Pence about how Trump could better appeal to women, noting that his daughter believed the real-estate mogul doesn't like women.
Referring repeatedly to the "Trump-Pence ticket," Representative Steve Scalise of Louisiana, the No. 3 Republican in the House, told reporters, "You can tell the enthusiasm in the room by members." He added that the same enthusiasm is evident on the campaign trail.
Pence told reporters he was grateful for support from Republican members and leaders, and that he appreciates Ryan's agenda. "With strong leadership in the House and Senate," he said, "we can bring real change."
David Duke
Pence also responded to questions about controversial Louisiana Republican Senate candidate David Duke. Asked whether he fit the description of "deplorable" -- a reference to a comment Hillary Clinton made about some Trumps supporters -- Pence said he denounced Duke but isn't "in the name-calling business." He also called on Clinton to apologize or recant her remarks.
"I'm not going to validate the language Hillary Clinton used to describe the American people," he said.
Aiming to project an image of party unity, Pence sidestepped a question about Ryan's occasional criticism of Trump by saying both he and Trump admire the speaker, and that differences within the party occur sometimes.
— With assistance by Steven T. Dennis, and James Rowley
Before it's here, it's on the Bloomberg Terminal.
LEARN MORE