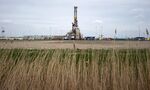 Much is remarkable about the Groningen natural gas field in the Netherlands, about a two-hour drive northeast of Amsterdam. The largest such deposit in Europe, it's already used 77 percent of its reserves. It's run as a joint venture of the world's two largest public oil companies, Royal Dutch Shell Plc and ExxonMobil Corp. And it's caused hundreds of earthquakes, some of them strong enough to damage homes in nearby farming communities. The Dutch government, accused of being late to respond to residents' complaints, is placing more limits on extraction of gas, which increase Europe's reliance on gas imports.
1. How strong are the earthquakes?
The Groningen gas field, discovered in 1959, had its first small, nearly imperceptible tremors recorded in 1986. Since then, there have been about 1,000 earthquakes. While most are undetectable except by instruments, a 2012 tremor reached 3.6 on the Richter scale, which is similar to a heavy truck driving by and can rattle dishes and doors. It resulted in more than 2,000 property damage claims. There are about 130,000 seismic events between 3 and 4 on the Richter scale annually, or 356 a day, according to the U.S. Geological Survey.

2. What's causing them?
Gas is found in the pores of rocks, and in rare instances, extracting it can cause the rocks to compact slightly, causing tremors. The quakes become more severe and more frequent as the gas field becomes more depleted. Other activities associated with energy development, including hydraulic fracturing, or "fracking," also can induce earthquakes by affecting the position of rocks underground.
3. What can be done about it?
Starting in 2014, the Dutch government has placed ever-stricter limits on gas production from the field. In the year that begins in October 2016, production can't exceed 24 billion cubic meters (847 billion cubic feet), unless there's an exceptionally cold winter. That's less than half the level before the first cap was imposed and less than a quarter of peak production in 1975-76. A Dutch court also ordered a complete halt on extraction activity around the village of Loppersum, where the worst earthquakes took place.
4. And this will stop the earthquakes?
Results so far are promising. In the first six months of 2016, there were six earthquakes measuring 1.5 or greater, down from 12 in the same period a year before, according to a local weather monitor. The Dutch State Supervision of Mines said in a 2013 report that if production wasn't reduced, there was a 7 percent chance of an earthquake with a magnitude between 4 and 5 in the next year. The department also cautioned that cutting production too quickly could cause a strong earthquake.
5. What's the impact on energy markets?
Reduced extraction from Groningen may force some customers to rethink their supply this winter. While Europe is awash with gas arriving by pipelines from Russia and Norway and by tanker from Qatar, and the prices are at their lowest level since 2009, some users are dependent on specific Groningen gas. The Netherlands, and parts of Germany, Belgium and France have built their networks to run on the low-calorific fuel produced at the field and don't yet have the ability to convert enough richer gas from Russia or Norway by adding nitrogen.
6. What's next?
Under a plan proposed by Dutch Economy Minister Henk Kamp, and widely criticized by political parties, Groningen production would remain at 24 billion cubic meters annually for five years. Local authorities have urged a lower cap. The NAM venture sees possibilities to extract more than 27 billion cubic meters a year of gas from Groningen field without compromising safety.
The Reference Shelf


— With assistance by Samuel Dodge
Before it's here, it's on the Bloomberg Terminal.
LEARN MORE