Pimco Bond Fund Cuts Bet as Dimon to Gundlach Warn on Rates Path
by and
Total Return Fund reduces duration to lowest level since May

JPMorgan CEO Jamie Dimon says it's time for the Fed to move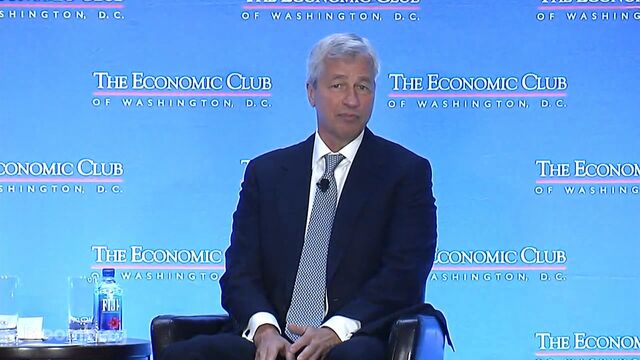 Pacific Investment Management Co.'s Total Return Fund, the world's biggest actively run debt fund, is trimming its bet on bonds.
Total Return cut the duration of its holdings to 5.27 years as of Aug. 31 from 5.44 years at the end of July, based on data on the company website. It was the lowest level since May. It also reduced its holdings of U.S. government and related securities last month.

U.S. 10-year yields rose on Monday to the highest since June on speculation the Federal Reserve will raise interest rates before year-end. It's time for the central bank to move, said Jamie Dimon, the chief executive officer at JPMorgan Chase & Co. Jeffrey Gundlach, the chief investment officer at DoubleLine Capital LP said investors should prepare for rising interest rates. The U.S. plans to auction $12 billion of 30-year bonds Tuesday.
"Let's just raise rates," Dimon said Monday at the Economic Club of Washington. "The Fed has to maintain credibility. I think it's time to raise rates. Normality is a good thing, not a bad thing. The return to normal is a good thing."
The 10-year note yield fell one basis point, or 0.01 percentage point, to 1.65 percent as of 6:45 a.m. New York time, according to Bloomberg Bond Trader data. The 1.5 percent security due in August 2026 rose 3/32, or 94 cents per $1,000 face value, to 98 19/32. The yield climbed to 1.70 percent Monday, the highest since June 24.
Below Average
The Fed cut its benchmark to almost zero almost eight years ago, raising the target only once since then to a range of 0.25 percent to 0.5 percent in December. In the two decades prior to the December 2008 reduction, the rate averaged about 3.5 percent.
Total Return Fund trimmed holdings of government and related debt to about 43 percent of assets from about 46 percent, based on the website data. 
Pimco is "continuing to reduce" its Treasury holdings, said Scott Mather, one of the three managers for the Total Return Fund, which has $85.8 billion in assets and is based in Newport Beach, California. The company sees value in inflation-linked debt and mortgage bonds, he said on Bloomberg Television Aug. 29. Its stake in government securities can include Treasuries and related investments such as inflation-protected bonds, futures contracts and agency debt, according to Pimco.
Big Moment
Gundlach said in a webcast last week fixed-income investors should reduce the duration of their positions and move money into cash. Duration is a measure of a bond's sensitivity to changes in yield, and a smaller figure indicates a more bearish position.
"This is a big, big moment," Gundlach said. "Interest rates have bottomed. They may not rise in the near term as I've talked about for years. But I think it's the beginning of something and you're supposed to be defensive."
For more on Gundlach and the bond market, click here.
Fed Governor Lael Brainard said Monday there's no rush to raise rates. Fed Bank of Atlanta President Dennis Lockhart repeated on Monday his call for a "serious discussion" about raising interest rates this month. His counterpart in Boston, Eric Rosengren, argued last week there was a reasonable case for gradual tightening. 
Fed Outlook
Futures contracts indicate a 22 percent chance the central bank will raise rates when it meets next week and a 57 percent probability of a move by December, according to data compiled by Bloomberg. The calculations assume the effective fed funds rate will average 0.625 percent after the central bank's next boost.
Those odds make rising yields increasingly attractive, according to Roger Bridges, the chief global strategist for interest rates and currencies at Nikko Asset Management Co.'s Australian unit in Sydney, which has about $16 billion in assets.
Treasuries are "even better value for investors particularly with the Fed likely to remain on hold," Bridges said.
Investors will get a chance to bid on the longest-term U.S. debt in Tuesday's 30-year auction. So-called long bonds have fallen 3.4 percent in September, headed for their steepest monthly loss in more than a year, based on Bank of America Corp. data. They're still up 15 percent in 2016 thanks to a first-half rally.
Before it's here, it's on the Bloomberg Terminal.
LEARN MORE