China's PBOC Injects 28-Day Funds for First Time Since February
Bloomberg News
Cuts rate on one-month cash, keeps unchanged for other tenors

Central bank is trying to cover holiday period, Citic says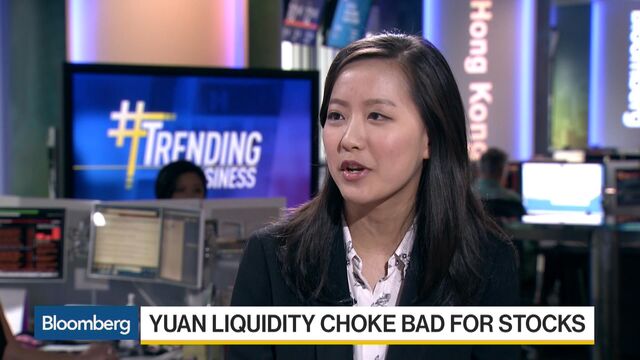 China's central bank resumed the use of a 28-day lending tool for the first time since February, lowering the interest rate as it injected funds into the financial system before a series of onshore holidays.
The People's Bank of China auctioned 60 billion yuan ($9 billion) of reverse-repurchase agreements in open-market operations Tuesday, reducing the rate to 2.55 percent from 2.6 percent on Feb. 5. The authority also sold 30 billion yuan of 14-day reverse repos and 70 billion yuan of one-week contracts, keeping their interest rates unchanged at 2.4 percent and 2.25 percent, respectively. The nation's financial markets are closed for holidays Thursday and Friday, and for the week through Oct. 7.

"As the holidays are quite close this year, using 28-day contracts will cover both periods and help smooth any volatility in the money markets," Ming Ming, head of fixed-income research at Citic Securities Co., wrote in a note. "Besides, the PBOC also intends to increase the supply of longer-term funds to raise the average cost of funds and curb overnight borrowing used to amplify returns in bond investments."
Leverage Concern
The return of the 28-day contracts comes amid speculation the monetary authority will seek to curb the use of short-term borrowing to finance bond purchases. A record rally in China sovereign debt has prompted traders to increase leverage to amplify returns, with transactions of overnight repo agreements climbing to a record 52.3 trillion yuan in August, compared with a monthly average of 31.8 trillion yuan last year. The nation's short-term goal is to slow rising leverage, PBOC Deputy Governor Yi Gang said in a television interview earlier this month.
"The cut in the 28-day interest rate was unexpected, showing that the central bank doesn't want to put too much pressure on financial institutions while at the same time encouraging them to reduce the use of leverage in bond investments by providing longer-term funds," said Tang Yue, an analyst at Industrial Securities Co. "The PBOC doesn't want to tighten the market excessively."
Money Markets
The seven-day repurchase rate, a gauge of interbank funding availability, rose seven basis points, the most in three weeks, to 2.39 percent as of 4:46 p.m. in Shanghai, weighted average prices show. Chinese government bonds advanced, with the 10-year yield dropping three basis points to 2.77 percent. The PBOC Tuesday also gauged demand for one-week, 14-day and 28-day reverse repos for Wednesday, according to traders at primary dealers required to bid at the auctions.
Yuan borrowing costs declined in Hong Kong. The one-week Hong Kong Interbank Offered Rate tumbled 139 basis points to 4.93 percent, after rising by the most in February on Monday. The Hong Kong Monetary Authority, the city's de facto central bank, provided liquidity support to lenders through the RMB Liquidity Facilities and Primary Liquidity Providers schemes, a spokesperson said in e-mailed response to questions on Monday.
The Chinese economy showed signs of strengthening last month, as data released Tuesday from industrial production, retail sales to fixed-asset investments exceeded economists' estimates. The reports followed better-than-expected trade figures and the official manufacturing gauge.
The yuan traded in Hong Kong's offshore market declined 0.03 percent to 6.6873 per dollar, while the currency in Shanghai was little changed at 6.6793.
— With assistance by Helen Sun, Yuling Yang, and Ling Zeng
Before it's here, it's on the Bloomberg Terminal.
LEARN MORE