Obama Says Putin Is Trump's 'Role Model' in Campaign Attack
By and
'He loves this guy,' the president says of their relationship

Obama also assails the Republican on taxes and his charity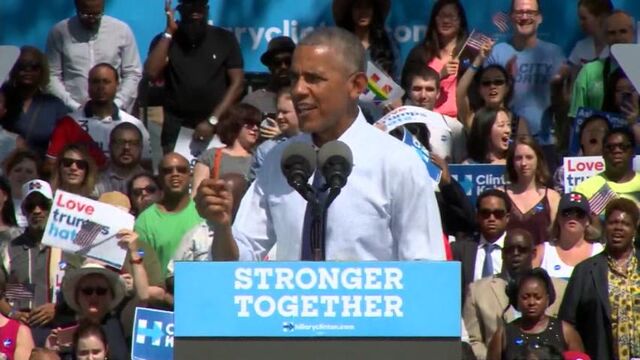 President Barack Obama criticized what he called Donald Trump's adulation of Vladimir Putin, saying the billionaire considers the Russian president a "role model," in a broad attack on the Republican nominee's fitness for the presidency.
"He loves this guy," Obama said at a campaign rally for Democrat Hillary Clinton in Philadelphia. "Think about what's happening to the Republican party. Used to be opposed to Russia and authoritarianism, and fighting for freedom and fighting for democracy."
Obama hit the campaign trail on Tuesday for Clinton, who is recovering from pneumonia at her New York home, and delivered a barn-burning speech in Philadelphia before heading to a fundraiser later in New York City. The president is one of Clinton's most important surrogates because she needs the coalition of blacks, Hispanics and young people who helped elect him to office twice. While those voters aren't likely to swing to Trump, Clinton hasn't replicate the enthusiasm they had for Obama to drive high turnout in November.
Pennsylvania is one of about eight swing states that are fierce battlegrounds for both campaigns. Trump was in Iowa Tuesday afternoon and plans to speak in the evening in Philadelphia. While Clinton is counting on strong support in the city and its suburbs, Trump is trying to consolidate support in rural and western Pennsylvania. Clinton held a 5.8 percentage point lead in the state in the average of five recent polls compiled by RealClearPolitics.
Obama skipped mentioning the two issues that have dominated the race in the past two days: the Clinton campaign's delayed admission that she was suffering a bout of pneumonia and her remarks at a fundraiser on Friday in which she said, "you could put half of Trump's supporters into what I call the basket of deplorables." Clinton has retreated from but not retracted the statement, saying she regretted saying "half."
Instead, the president lauded Clinton and leveled repeated attacks on Trump, who he said "isn't fit in any way, shape or form to represent this country abroad and be its commander in chief." Trump, speaking at a campaign rally in Des Moines, Iowa, said little about Obama beyond repeating a promise to repeal the Affordable Care Act and criticizing the president for declining to describe the U.S. as in conflict with "radical Islamic terrorism."
Trump continued to try to capitalize on Clinton's "basket of deplorables" remark, accusing her of demeaning "hard-working American patriots." He said it smacked of the "arrogance and entitlement" that led to controversies over her private e-mails as secretary of state and ties to her family's foundation.
Russian Hacking
Obama's criticism of Trump's relationship with Putin was poignant because the U.S. government has alleged that Russian hackers broke into computer systems at Democratic campaign committees and the material was released just before the party convention where Clinton was formally nominated. Clinton's campaign has charged that Putin's government may be trying to interfere with the U.S. election, a claim Putin denied in an interview with Bloomberg News.
Trump has praised Putin for being a "strong leader," Obama said, after the Russian president "invades smaller countries," jails his political opponents, controls his country's media and has driven its economy into recession.
"I have to do business with Russia," Obama said. "That's part of foreign policy. But I don't go around saying that's my role model."
Obama's own relationship with Putin has been frosty. The U.S. imposed sanctions on Russia after it annexed Crimea from Ukraine in 2014, and Obama has criticized Putin's military intervention in both Ukraine and in Syria, where Putin has sought to bolster the government of his ally Bashar al-Assad by attacking U.S.-backed rebel groups. The U.S. wants Assad removed from power. In addition, U.S. officials suspect Russian government hackers were behind intrusions into federal computer systems. Russian aircraft have harassed U.S. ships in the Baltic Sea while Putin has criticized NATO's expansion in eastern Europe.
Still, the U.S. and Russia were able to negotiate a fragile cease fire in Syria last week, and Obama and Putin have each said they would like to be partners in fighting terrorism.
'Working People'
Obama also mocked Trump's self-portrayal as a champion of working people -- "he spent most of his life trying to stay as far away from working people as he could," the president said -- and attacked the Republican for refusing to release his tax returns and for the activities of his charity, the Donald J. Trump Foundation.
"You've got one candidate in this race who's released decades worth of her tax returns," Obama said. "The other candidate is the first in decades who refuses to release any at all."
He compared Trump's foundation unfavorably with the Clinton Foundation, which he said "has saved countless lives around the world" through its work.
"The other candidate's foundation took money other people gave to his charity and then bought a six-foot-tall painting of himself," Obama said, referring to a Washington Post report on the Trump Foundation's activities. "He had the taste not to go for the ten-foot version."
Before it's here, it's on the Bloomberg Terminal.
LEARN MORE