markets
Negative Rates May Do More Harm Than Good, Expert Says
By
Stanford economist says central banks should take step back

Views Fed as behind the curve on getting back to neutral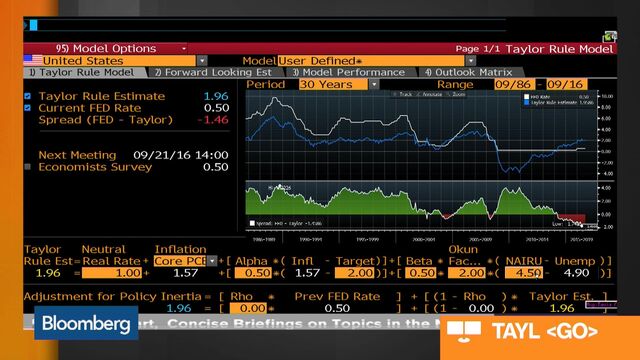 The negative interest rate strategy that Japan and Europe's central banks have embraced may do more harm than good, according to John Taylor, the creator of an eponymous rule for guiding monetary policy.
QuickTake Negative Interest Rates
"What we are learning is that, in my view, negative rates may not have helped and may have hurt," Taylor, a professor at Stanford University in California, said in a telephone interview this week. "It could be counterproductive, no question."

A potential problem is that the strategy of charging banks for a portion of their reserves squeezes the availability of credit.
Bank of Japan Governor Haruhiko Kuroda last week rejected the idea that the negative-rate policy adopted in January had hurt banks' "intermediary functions" -- their ability to channel savings to lending. Even so, he acknowledged that the move had spurred a powerful drop in long-term yields. That, in turn, hurt earnings on savings including pensions, generating some risk for the "sustainability of the financial function in a broad sense."
To see what the Taylor rule recommends for benchmark rates around the world, click here.
"The macro models we have don't really incorporate that financial-sector behavior, so it's hard to give a magnitude to it," Taylor said. While some companies may boost investment, others could pare it back, and saving rates could be affected, said Taylor, who served as the U.S. Treasury's top international official from 2001 to 2005.
More broadly, developed nations aren't suffering so much from a dearth in demand as a challenge in productivity, especially in the U.S., the economist said. Taylor underscored the importance of shifting focus to government actions, as called for by many and codified in Group of 20 statements. "Other policies have to play a greater role than they have had," whether in Japan, Europe or the U.S., he said, emphasizing regulatory reforms.
Negative rates have had a big effect on long-term yields, Taylor said, agreeing with Kuroda's thinking on the dynamic by which they were brought down. "I don't know how long that will continue," he said. "It has not had a big impact on inflation and the economy," he also said.
Fed View
Taylor reiterated his thinking that, in the U.S., the Federal Reserve is behind the curve in raising rates. "The evidence is very weak" for the view shared by some at the Fed that the neutral level for the benchmark rate is now lower than it once was, he said.
For a QuickTake explainer on negative interest rates, click here
"I don't think we have lots of evidence that it's lower" than the 4 percent level calculated many years ago, Taylor said. Even if the level is 3 percent, that still leaves the Fed -- at a 0.5 percent upper-bound target -- "a ways to go" to normalize, he said.
The economist, known for an equation that measures where a central bank should set its benchmark rate based on inflation and growth, criticized global policy makers for an excess focus on reaching 2 percent goals for consumer-price gains.
While inflation targets "are useful," central banks ought not to judge that "below 2 percent we have to have the foot all the way on the floor, and accelerate as much as we can" with stimulus, he said. "That's what I worry about."
Before it's here, it's on the Bloomberg Terminal.
LEARN MORE