Mastermind of Brazil Impeachment Stripped of His Own Mandate
By and
Lower House overwhelmingly votes to expell Eduardo Cunha

Former house speaker Cunha may implicate allies, Eurasia says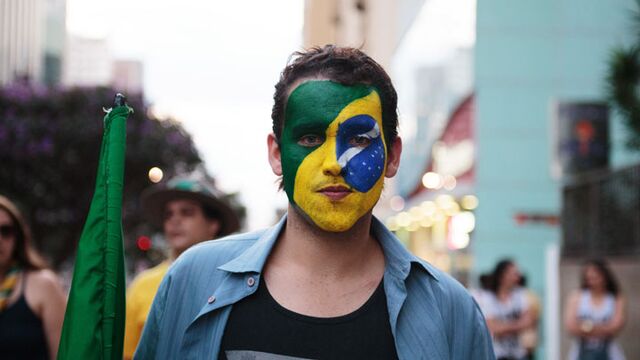 The politician who led the drive to impeach president Dilma Rousseff lost his mandate himself during a congressional trial that could rattle her successor's government.
QuickTake Brazil's Highs and Lows
An overwhelming majority of 450 Brazilian lawmakers voted to expel former speaker Eduardo Cunha and ban him from public office for eight years on charges he lied over holding Swiss bank accounts. He denies wrongdoing, including accusations by prosecutors he stashed kickbacks in the accounts. Only 10 congressmen voted in favor of Cunha during a lower house session that ended around midnight. Nine abstained and 42 didn't show up.
The expulsion of one the most influential lawmakers in Brazil's recent history could stall President Michel Temer's reform agenda if he decides to retaliate by revealing corruption among his peers. "The fear amongst party leaders is that he could implicate key ministers within Temer's administration, or even the president himself," Eurasia Group political consulting firm said in a research note. 
Cunha's Book
Cunha has rejected the idea that he would incriminate others by signing a plea bargain deal with prosecutors. Such deals are "only for those who committed crimes and I haven't committed any," he told reporters after being expelled from office. He added, however, that he was writing a book to "tell everything" that happened in Congress in the run-up to Rousseff's impeachment.
"Cunha is a time bomb," said Ivan Valente, leader of the PSOL party in the lower house. "If he tells everything he knows, the government won't stand."
The Brazilian real sank nearly 2 percent to 3.30 per dollar, the second worst performer among the 16 major currencies, in part on speculation that Cunha's possible revelations could upend efforts to pass economic reforms.
Carwash Judge
Dozens of legislators, including Cunha, are being investigated in relation to the scheme of kickbacks from state-owned oil company Petrobras. Without his mandate, Cunha lost the privilege of being prosecuted only in the Supreme Court and could face judge Sergio Moro, who is in charge of the so-called Carwash probe that has landed some of the country's leading executives behind bars.
The case of the former Evangelical radio host, who has repeatedly outmaneuvered his critics to avoid punishment despite mounting accusations of wrongdoing, has gripped Brazil. Cunha, who abandoned Rousseff's coalition last year, initiated the impeachment proceedings in December against the then-president for manipulating public accounts.
Temer relies on congressional support to pass austerity measures and pull Latin America's largest economy out of its worst recession in decades. These include cuts to pension benefits and other unpopular measures. While he nominally enjoys an ample congressional majority, some of his allies have voiced concern over controversial bills, particularly ahead of municipal elections next month.