Making a Loss Look Like a Profit: Where Perrigo Led the S&P 500
By
Drugmaker's adjusted and GAAP earnings had 2015's widest gulf

Perrigo's performance is under scrutiny by activist Starboard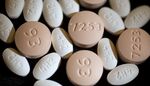 Activist investor Starboard Value LP rattled Perrigo Co. on Monday with a scathing criticism of the drug company's management. A look at Perrigo's financials reveals one way management has excelled: Making its results look good.
Quarter after quarter, the Dublin, Ireland-based maker of generic drugs relied on one-time expenses and novel terms like "organic net sales" to highlight a string of profits on its own adjusted terms. In its full-year 2015 report, Perrigo listed $1.09 billion in adjusted profit. The word "loss" was used sparely, despite a net loss of $33 million using non-adjusted accounting that adheres to Generally Accepted Accounting Principles, known as GAAP.
It was the biggest percentage disparity last year between adjusted and GAAP figures among companies in the Standard & Poor's 500 index, according to data compiled by Bloomberg.
Related coverage: Valeant's Come-to-GAAP Moment Followed Prodding by SEC
Many companies say adjusted figures, which are permitted by the U.S. Securities and Exchange Commission, strip out quarter-to-quarter noise and often give investors a truer picture of a company's health. Even so, the divide between standard and non-standard accounting measures has become a subject of scrutiny by the SEC, prompting companies to begin suppressing their hand-picked numbers and toning down their characterizations of performance. Perrigo, for its part, began leading its reports with GAAP figures this year.
"I think what's upsetting the SEC is the emphasis on record non-GAAP results," said Paul Chaney, an accounting professor at Vanderbilt University, speaking generally about public companies. "Some companies put those numbers in a big font. But if you look at the accounting numbers, it might show the exact opposite. The company might have had a loss." 
Perrigo declined to provide comment on its use of adjusted financial results. Responding to Starboard's critiques, it said in a written statement that it's committed to transparency and "looks forward to a constructive and productive dialogue with Starboard." Starboard didn't respond to a request for comment.

'Changes Needed'
Starboard, an activist fund, disclosed a 4.6 percent stake in Perrigo in a letter Monday to the company's chief executive officer, John Hendrickson. Starboard chastised management for its underperforming stock price and stated that "changes are needed to reverse the trajectory of poor operating and financial performance." The company's shares jumped the most since June 14 after the letter went public but are down about 36 percent for the year.
Until recently, casual observers could be forgiven for thinking the company needed no such reversal. In 2014 and 2015, its financial reports highlighted "record" high profits based on figures adjusted for a range of temporary expenses, and its top executives received bonuses tied to those numbers. Its GAAP results were often pushed to the bottom.
That changed last month, when the company shifted to a more matter-of-fact approach in releasing its second-quarter earnings. Dropping talk of records and emphasizing net income of $194 million ahead of a higher adjusted figure, the Aug. 10 report stated blandly: "Perrigo Company plc Reports Second Quarter 2016 Financial Results."
The change speaks to how publicly traded companies are responding to the SEC's demands that they cut the hyperbole and switch to a more standard, straightforward approach to the financial reports that analysts and investors rely on to assess the health of a company.
SEC Guidelines
In May, the agency released new reporting guidelines. Beyond urging companies to dramatically limit their use of adjusted figures, the SEC cautioned management against giving such numbers more prominence than conventional results that conform to GAAP.
Related coverage: In Tesla's Earnings Report, GAAP Measures Gain New Prominence
Starboard didn't chastise Perrigo for the magnitude of its adjustments. But it did take issue with its underlying financial results and some of the activities the drug maker stripped out of earnings to calculate its adjusted numbers. That includes the cost of an "extremely expensive" defense against a hostile bid by Mylan NV and expenses related to the "severely mismanaged" integration of Omega Pharma NV.
Wall Street analysts generally haven't resisted the increasing focus on adjusted numbers, which are often used by pharmaceutical companies. But one practice that has raised concerns among regulators and some investors is when companies characterize recurring expenses as one-offs -- such as when a serial acquirer like Perrigo consistently treats deal-related costs as one-time expenses.
Adjusted results are typically only one of several measures that analysts use to evaluate public companies, said David Buck, who covers Perrigo for Northland Securities.
Adjustments Questioned
This spring, shortly before the SEC released its new guidelines, its chief accountant, James Schnurr, said in a speech that he was "particularly troubled by the extent and nature of the adjustments" companies were using to arrive at their own measures of profitability.
The agency's Division of Corporate Finance, in a letter-writing campaign this year, has called out at least a few dozen companies, including NRG Energy Inc. and Chubb Ltd., asking them to clarify their use of non-GAAP accounting measures or ordering them outright to make changes, public filings indicate. Perrigo hasn't been among those companies.
NRG and Chubb both responded to the SEC by saying they would change their disclosures to comply with the agency's guidance. A Chubb spokesman declined to comment for this article, and NRG didn't respond to requests for comment.
One-Time Events
In general, executives have defended adjusted financials as a way to help investors focus on the performance of their underlying businesses by stripping away one-time events -- like the odd acquisition or lawsuit -- that are counted under GAAP. Regulators have shown some sympathy for that argument.
"The SEC is willing to concede that for some companies non-GAAP numbers are a logical way to account for the business," Chaney, the Vanderbilt accounting professor, said. "But it wants them to start with GAAP so at least there's some consistency."
Accounting methods aside, Perrigo has attracted its share of controversy. After being based in Michigan since 1887, it engineered a corporate inversion in 2013 to move its headquarters to tax-friendly Ireland. The company spurned a hostile takeover by the EpiPen maker Mylan last year that offered shareholders twice the company's current value. In April, after the deal died, longtime Chief Executive Officer Joseph Papa left the drug maker for its embattled rival, Valeant Pharmaceuticals International Inc.

Non-GAAP Modifications
Perrigo's unparalleled 2015 earnings adjustment resulted from a handful of large non-GAAP modifications of the sort that have become common among publicly listed companies. As Perrigo used acquisitions to increase sales 28 percent to a record $5.3 billion, it also excluded acquisition-related amortization expenses from its cost of goods sold, thereby boosting its adjusted gross profit by $447 million.
Other adjustments cut operating expenses by nearly half a billion dollars more. Among those excluded were $100 million spent fighting off Mylan's hostile bid and $92 million in acquisition-related "selling" expenses. A separate adjustment excluded $265 million lost to a buyout-related currency hedge gone sour.
"It's real money going out door," J. Edward Ketz, an accounting professor at Penn State, said about the acquisition-related expenses Perrigo excluded from its adjusted results. "Shareholders are going to feel the impact. As long as Perrigo's in the M&A business, it can't argue that this is non-recurring."