Japan Banks on Wildest Ride Since Global Crisis Before BOJ
by and
Steeper yield curve fueled rally that's now reversing course

BOJ officials spurred speculation negative rates may deepen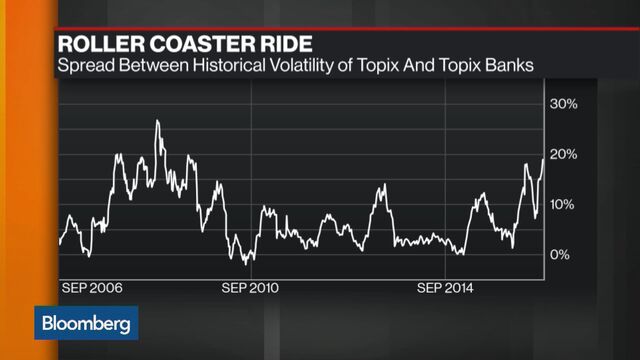 Japan's bank stocks are the most volatile relative to the broader equity market since the financial crisis as investors wrestle with whether the central bank's next move will be a help or a hindrance to lenders.
Speculation the Bank of Japan may act to steepen the sovereign yield curve, which would make lending more profitable, helped fuel a 30 percent rebound for the Topix Banks Index this summer. That rally has faded, while there is also talk of a deeper push into negative interest rates. Investors have already seen how that plays out in the equity market: the introduction of below-zero deposit rates early this year sparked the biggest selloff in bank shares since 2008.

"There's no real direction, the volatility is just very high," said Kentaro Kogi, a Tokyo-based bank analyst at Citigroup Inc. "This is the kind of phase we're in at the moment -- it's the back and forth in expectations over BOJ policy rather than fundamentals that have been driving share prices."
Investors have been whipsawed ahead of next week's BOJ meeting. The central bank is reviewing its monetary policy after more than three years of unprecedented easing failed to revive the economy and prices. Its introduction of negative rates in January was aimed at lowering borrowing costs and persuading banks to use more of their spare cash sitting at the BOJ. Yet lending has since slowed, the yen has surged and banks remain reluctant to take on more risky assets as profit slides.
Pave Way
The direction for bank shares may point the way for the rest of the market, as lenders were among the main groups leading the broader Topix index in its plunge to a bear market in February, and also paved the way for the summer's rebound.
Volatility measured against a 50-day period for bank stocks in Japan's Topix index is at the highest since 2009 relative to the benchmark gauge. Gyrations continued this week as the nation's banks tumbled amid a global equity selloff. The Topix Banks Index tumbled as much as 2.6 percent on Wednesday after the Nikkei newspaper reported that the BOJ will explore delving deeper into negative rates. The 87-stock gauge has now lost almost 30 percent this year, heading for its biggest annual decline since 2008.
Yield Curve
It hasn't been all downhill. Mitsubishi UFJ Financial Group Inc., along with peers Sumitomo Mitsui Financial Group Inc. and Mizuho Financial Group Inc., helped stage a comeback for the industry in July and August, as Japan's long-term bonds began to offer a bigger yield advantage over shorter-maturity debt.
Banks profit from making loans at higher interest rates than what they paid for their funding, meaning a wider yield spread provides fatter margins. Brokerages including Haitong International Securities Group Ltd., Macquarie Group Ltd. and Daiwa Securities Group Inc. have upgraded ratings or price targets for some of the largest banks in September.
The BOJ is considering either a tweak to or an abandonment of its guidance on the range of government bonds that it buys, according to people familiar with the discussions. Any shift would reflect a desire by policy makers to give themselves greater flexibility as they continue with the unprecedented scale of debt purchases, the people said, asking not to be named as the talks are private.
"It seems that the costs of monetary easing, not the contention that policy has reached its technical limits, are going to be stressed as the rationale for modifying the current policy framework," Ryutaro Kono, chief Japan economist at BNP Paribas SA in Tokyo, wrote in a note on Sept. 9. He expects the BOJ will implement a more flexible range for JGB purchases.

Bond investors are signaling that the steepening of the gap between 30- and 10-year yields may be close to a peak. Forward-curve data compiled by Bloomberg late Tuesday show that the spread between interest rates on the two maturities will narrow to 47 basis points in a year's time, from 53 late Tuesday. And bank stocks have struggled of late. The Topix Banks Index has lost 6 percent this month, more than the Topix's 0.8 percent decline.
"Maybe people are getting a bit too excited about the yield curve story at the moment," said Michael Makdad, a bank analyst in Tokyo at Haitong International, who rates MUFG and Sumitomo Mitsui a buy.
Investors are also speculating on the odds for an extra rate cut. BOJ chief Haruhiko Kuroda conceded last week that negative rates have hurt banks' profits, while also signaling that he has room to take them further below zero if the benefits to the economy outweigh the costs. The central bank will place further negative interest rates at the focus of policy, now that its expansion of asset buying is reaching a limit, the Nikkei reported Wednesday, without attribution.
Economists surveyed by Bloomberg are split over the likely outcome of the policy board meeting ending Sept. 21, with just over half predicting an expansion of stimulus.
"Where bank stocks are headed all depends on what the BOJ does," said Masaaki Yamaguchi, an equity strategist at Nomura Holdings Inc. in Tokyo.
Before it's here, it's on the Bloomberg Terminal.
LEARN MORE