Israel's Shimon Peres in Serious Condition After Stroke
By and
Nobel Peace Prize winner, 93, taken to Tel Aviv-area facility

Doctors say condition improving, Peres aware of surroundings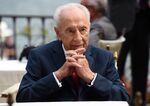 Shimon Peres, Israel's former president and prime minister, remained in serious condition after suffering a stroke and brain hemorrhage, but his condition was improving, the director of the hospital treating him said.
Peres "is still in a pretty tough condition. But he is stable and we see some improvement," Yitzhak Kreis, director general of Sheba Medical Center at Tel Hashomer, told reporters Wednesday afternoon, according to a transcript of his comments. "He is conscious, he's awake."
Peres, 93, felt unwell after giving a one-hour speech Tuesday and was taken to the medical center, where he suffered the stroke, according to his son-in-law and personal physician, Rafi Walden.
"I am pleased to say that he understands what is being said to him, is responsive, and even warmly squeezed my hand," Walden said Wednesday afternoon. "We are impressed by the way the state of his recognition has improved considerably in the last few hours. "
Peres shared the 1994 Nobel Peace Prize with Israeli Prime Minister Yitzhak Rabin and Palestine Liberation Organization Chairman Yasser Arafat for the 1993 peace accords. In January, Peres was hospitalized twice after experiencing a mild heart attack and an irregular heartbeat, and had a pacemaker implanted last week.
Peres held virtually all of Israel's top civilian posts in a career that spanned more than six decades. From procuring arms for the fledgling state's 1948 War of Independence and developing its nuclear reactor in the 1950s, to pursuing peace with the country's Arab neighbors later in life, he played a role in most milestones in Israel's political and diplomatic history.