Bill to Scrap Dodd-Frank Advances Amid Wells Fargo Backlash
By
Republican's proposal passed after Democrats forced final vote

Opponents decry measure as toxic after Wells Fargo fine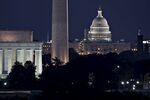 U.S. House Republicans advanced legislation to undo Congress's response to the 2008 financial crisis after Democrats forced quick action on the measure that they decried as toxic.
Financial Services Committee Chairman Jeb Hensarling's bill, which he said will spur economic growth and end bank bailouts, will move to the House floor after a 30-26 vote in an acrimonious committee markup on Tuesday. The Financial Choice Act is the Texas Republican's plan for replacing the six-year-old Dodd-Frank Act.
"This bill is so bad that it simply cannot be fixed," Representative Maxine Waters, the panel's ranking Democrat, said in a statement before the vote. "It's clear that this is a rushed, partisan messaging tool, though why anyone would want to push legislation to deregulate Wall Street at a time like this is beyond me."
Even with committee approval, the legislation isn't expected to get a vote on the House floor. Many Republicans aren't anxious to take a position that can be portrayed as giving support to the financial industry, especially in the weeks leading up to an election.  Scrapping Dodd-Frank may be even less popular after Wells Fargo & Co. set off a renewed backlash against banks in Washington when it agreed last week to pay $185 million in fines for allegedly opening deposit and credit-card accounts without customers' approval.
Bolster Safeguards
Hensarling said his bill, which passed with no Democrats in support, would toughen rules for Wall Street and bolster safeguards against another financial crisis.
"Democrats just voted against a bill that increases penalties against those who commit financial fraud," he said in a statement. "They just voted against a bill that ends taxpayer-funded bailouts, and they just voted against legislation that provides relief from Washington's crushing regulatory burden for small banks, credit unions and consumers."
No Compromise
That lack of bipartisan support for the legislation reflects Hensarling's rigid pro-market ideology and shows it wasn't written, as many bills are, with compromise in mind, said Brandon Barford, a partner at Beacon Policy Advisors, a Washington research firm.
"It's making a point rather than making a difference," Barford said.
Indeed, in a sign that the legislation is more about the message, Hensarling launched a mini-marketing campaign, complete with online videos and a catchy tagline: "Growth For All, Bailouts For None."
The bill -- which could serve as the starting blocks for a potential Trump administration's overhaul of financial regulations -- takes a red pen to the core language of the Dodd-Frank. 
Weakening CFPB
The Volcker Rule ban of certain investments by banks: gone. The power of regulators to take apart failing financial firms: gone. The Financial Stability Oversight Council's ability to label firms that might endanger the wider financial system: gone. And among the most hotly contested provisions is a repeal of a provision that limited debit-card swipe fees.
Jammed with ideas familiar to those who have followed Hensarling's campaign against the landmark legislation, the bill would also weaken the reach of the Consumer Financial Protection Bureau and replace its lone director with a commission. It would give Congress much more authority over the financial regulators' budgets, and the agencies would have more hoops to jump through to justify their rules. Democrats have vocally defended the CFPB in recent days after it led regulators fining Wells Fargo.
Hensarling's bill calls for allowing the Securities and Exchange Commission to triple monetary fines in cases where the penalties are tied to illegal profits and gives the agency authority to impose sanctions equal to investor losses in cases of fraud. It would also increase fines for individuals that engage in insider trading.
Republican presidential candidate Donald Trump has often criticized Dodd-Frank and regulations in general, so a draft of Hensarling's bill could come in handy whether or not it makes much progress in the House this year.
Lobbying groups for retailers have bashed the bill's repeal of the swipe fee measure, authored by Senator Richard Durbin. The provision capped the payments, known as interchange, that retailers make to banks for processing debit cards. The National Association of Convenience Stores noted this week that the change was needed to control "the spiraling costs of transactions."
Banks said that the Durbin repeal is one part of the Hensarling legislation they support. Though it too won't become law anytime soon, bank lobbyists said they see it as a positive development that puts them back on offensive after getting beaten down by merchants like Wal-Mart Stores Inc. and Target Corp. for most of the decade. There's some $50 billion in annual fees at stake in the long-running swipe fee battle.
"Small, medium and large banks and credit unions won today," said Sam Geduldig, a Republican financial-services lobbyist with CGCN Group who has clients involved in the swipe-fee fight. "Price controls have hurt the entire industry and this vote is a step forward for the entire banking sector."
— With assistance by Robert Schmidt, and Jesse Hamilton
Before it's here, it's on the Bloomberg Terminal.
LEARN MORE