Hedge Funds Find a New Short-Selling Guru
By and
Yuki Arai of Well Investments has had a string of successes

Founder sells ideas to hedge funds, says he doesn't go short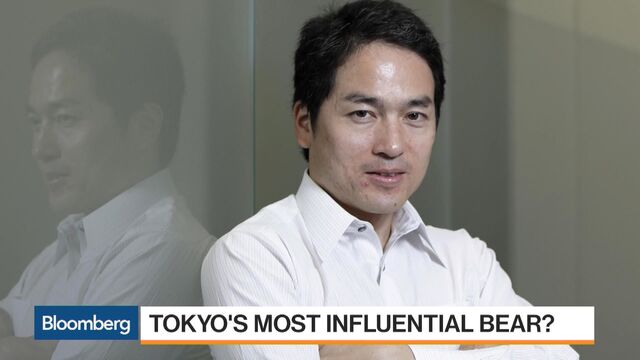 As activist short sellers descend on Japan's stock market for the first time, one local analyst is emerging from obscurity to contend for the title of Tokyo's most influential bear.
His name is Yuki Arai, and for someone who published his inaugural short-selling report less than nine months ago, he's had an impressive string of successes. All three of Arai's recommendations have proven lucrative targets for his hedge fund clients, tumbling an average 35 percent through Tuesday after his one-man firm, Well Investments Research, made the calls public.
The returns have so far outstripped those of Glaucus Research Group and Citron Research, high-profile international peers that both unveiled their first short recommendations on Japanese companies this summer. While it's still too early to judge whether Arai's initial success can be sustained, he's determined to make a name for himself in a market that he says needs more critical voices.
"I'm kind of an amateur in this industry," said Arai, 40, a lawyer by training whose multiple endeavors have included running a derivatives-focused hedge fund, a family office and a legal practice specializing in litigation and asset management. "I want to show my ability."
For a QuickTake explainer on short selling, click here.
Just as in other markets, the arrival of activist shorts in Japan has sparked a debate over the merits of their tactics, which often mix fundamental analysis with emphatic language and aggressive publicity campaigns. 
Supporters say the research makes markets more efficient and keeps misbehaving corporate managers in check, while opponents argue the methods often resemble market manipulation. The head of Japan's stock exchange said in July that he had doubts about the ethics of Glaucus's strategy to bet against stocks before releasing negative reports. The California-based firm led by Matthew Wiechert and Soren Aandahl responded by saying the bourse doesn't understand the role of short sellers.

Arai describes his research as a catalyst for improving both transparency and corporate governance in Japan, goals that dovetail with Prime Minister Shinzo Abe's efforts to make the nation's public companies more accountable.
Bear Playbook
Unlike Citron and Glaucus, Arai said he doesn't take positions in the targets of his research. While his first report included a disclaimer that Well Investments and its clients may be betting against the stock, Arai said he has so far refrained from such wagers to avoid the impression that he's publishing for the benefit of his own trades. He said all of his subscribers are foreign investors, while declining to provide names.
"At least at the moment, I don't want to have a position," Arai said in an Aug. 25 interview in Tokyo. "It could be a conflict of interest with my clients."
In other ways, Arai has mimicked the playbook of his U.S.-based peers. He charges clients for early access to his reports, then promotes the calls on social media and his website to reach a wider audience. He has used words like "absurd" and "unbelievable" to describe some of his targets, a stark contrast to the bland writing found in much of Japan's stock-market research.
Arai burst onto the scene in December with a critical 39-page report on Marubeni Corp., a Tokyo-based trader of everything from commodities to clothing. He alleged that the company had failed to write down investments in Australian iron-ore miner Roy Hill Holdings Pty and grain merchant Gavilon Group LLC, despite a rout in raw-materials prices that he said eroded the firms' values. Arai predicted Marubeni's stock would plunge 40 percent.
Asset Writedowns
While Marubeni didn't respond to the initial allegations, the company subsequently reported preliminary earnings that fell short of forecasts in April, citing among other things a 20 billion yen ($194 million) impairment loss at Roy Hill and a 10 billion yen decline in profits from grain and steel operations. Arai responded in a follow-up report by alleging the writedowns were too small. Through Tuesday, the shares have dropped 20 percent since he first criticized the company.
Marubeni has had no dealings with Well Investments and isn't in a position to comment on individual reports, the company said by e-mail.
Starting in late April, Arai targeted Jig-Saw Inc., a small-cap provider of remote technology management services whose shares had surged more than 18-fold since its initial public offering last year. Jig-Saw is "massively overvalued" and the company's business and strategy "make no sense to industry specialists," Arai wrote. The shares, which have since tumbled 63 percent through Tuesday, still trade at about 58 times net assets.
Popular Short
Aya Sasaki, a spokeswoman for Jig-Saw, said she was aware of the research but declined to comment.
Arai's latest short pick is Cyberdyne Inc., a maker of robot exoskeletons that's been a popular wager among bears this year. Arai said in July that Cyberdyne's share price was too high given its lack of profit and abundant competitors. His call followed a bearish presentation by Seth Fischer of hedge fund Oasis Management at a conference in Hong Kong in June, while Andrew Left of Citron Research unveiled a similar thesis in August. Through Tuesday, the shares are down 22 percent since Arai's report.
Cyberdyne has denied all allegations and said short sellers are using misleading comparisons for its technology, which it considers unique.
"Like Citron, the report has extremely shallow analysis and is based on factual errors," Shinji Uga, Cyberdyne's chief financial officer, said in an e-mailed response to questions about Arai's analysis. "The report will unnecessarily lead investors astray and is very problematic."
Marubeni fell 1.3 percent in Tokyo on Wednesday, while Cyberdyne lost 3.1 percent and Jig-Saw sank 3 percent.
Legal Challenges
Arai splits his time between Hong Kong, Tokyo and New York, and has stakes in several ventures. He's a managing partner at Tokyo-based Wealth Management Attorneys at Law, where his clients include Universal Entertainment Corp., a Japanese maker of pachinko machines that was embroiled in disputes over a casino project in the Philippines. Universal called the allegations "groundless."
Arai also manages a hedge fund with about 1.3 billion yen that he says trades in stock-index options, but not individual equities. The Fujiyama fund, as it's known, returned 8.1 percent this year through the end of August, Arai said.
Despite his varied career, Arai was little-known in Tokyo's stock market circles before releasing his first short report through Well Investments in December.
"The other short sellers have more experience under their belts and are more recognized, so the lack of awareness for Well could be one of its challenges," said Yoshinori Ogawa, a senior strategist at Okasan Securities Co.
The jury is still out on how Japanese companies and regulators will respond to Tokyo's new stock critics. When the head of the nation's bourse expressed his ethical misgivings about Glaucus's tactics, he stopped short of saying there were regulatory issues.
Arai isn't worried about legal challenges, particularly because he's not trading on his research. He says his background in Japanese law will help him mount a defense if needed.
"I'm not at all concerned," he said. "I'm just saying my opinion."
— With assistance by Ichiro Suzuki
Before it's here, it's on the Bloomberg Terminal.
LEARN MORE