Clinton Aide Spurns Congress's Subpoena for Server Testimony
By
Pagliano had been granted immunity in Justice Department probe

Two other witnesses from tech firm pled Fifth Amendment rights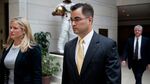 An aide who helped Hillary Clinton maintain her private e-mail server didn't show up for a congressional hearing Tuesday despite a subpoena, while two other witnesses who worked for a company hired by the Clintons invoked their Fifth Amendment right not to answer questions.
Bryan Pagliano, a former staffer on Clinton's 2008 presidential bid who was granted immunity by the Justice Department during a probe of the server, has twice before invoked his Fifth Amendment rights on the matter and didn't attend the session.
The latest call for Pagliano to testify furthered "no legislative purpose and is a transparent effort to publicly harass and humiliate" him "for unvarnished political purposes," Pagliano's lawyers wrote in a letter to the committee's chairman, Republican Representative Jason Chaffetz of Utah.
"Mr. Pagliano is uniquely qualified to provide testimony that will help the
committee understand Secretary Clinton's use of a private e-mail server," Chaffetz said at the hearing. He said the committee will consider "a full range of options available to address Mr. Pagliano's failure to appear."
Two employees from Platte River Networks, a Denver-based technology company that the Clintons hired to maintain a successor server after Hillary Clinton left the State Department in 2013, appeared at the hearing but invoked their right not to answer questions.
By contrast, Justin Cooper, a former top aide to President Bill Clinton who also helped maintain the server, testified for more than two hours.
'Absolute Abuse'
Representative Elijah Cummings of Maryland, the committee's top Democrat, said the subpoena of Pagliano was "an absolute abuse of authority" and that Pagliano "was concerned about the criminal accusations that Republicans were making so his attorneys advised him to assert the Fifth Amendment."
Pagliano installed the main server that the Democratic presidential nominee used while she was secretary of state, and he handled software upgrades and general maintenance, according to recently released files from the FBI's investigation, which recommended no charges against Clinton or her aides. Chaffetz said Pagliano didn't disclose that he was being paid by the Clintons while he was also on the State Department's payroll.
For a QuickTake Q&A on Clinton's e-mail system, click here.
Clinton's use of the private e-mail server has dogged her campaign for more than a year and prompted a series of explanations and clarifications from the Democratic presidential candidate over her use of the system to send and receive classified information. James Comey, director of the Federal Bureau of Investigation, criticized Clinton and her aides for "extremely careless" handling of sensitive data.
"The fact that the individuals who maintained Hillary Clinton's secret email server pleaded the Fifth shows once again why she can't be trusted in the White House," Jason Miller, a communications adviser to Republican presidential nominee Donald Trump, said in a Tuesday statement.
Tuesday's hearing marked the the committee's third within days. During a Monday session, Chaffetz served a subpoena to an FBI official for full files from the bureau's investigation of Clinton.
Republicans have said the committee is looking into special treatment of a presidential candidate by the government, while Democrats have said it's trying to tarnish their nominee.
Fifth Amendment
Pagliano's lawyers have said his grant of immunity was limited and he had a fear of prosecution if he testified in other circumstances. Democratic Representative Stephen Lynch of Massachusetts said testimony by Pagliano "put him under threat of criminal prosecution."
Republican Representative Trey Gowdy of South Carolina responded that Pagliano wasn't acting within his rights to ignore the subpoena.
"Where is the criminal liability?" said Gowdy, a former prosecutor, during an exchange with Lynch. "There is no Fifth Amendment privilege against answering non-incriminating questions."
Platte River
An employee of Platte River Networks deleted archives of Clinton's e-mails in March 2015, according to the heavily redacted notes that the FBI released. The deletions came despite an order to preserve them by the House Benghazi Committee, according to the notes.
The FBI quoted the employee as saying "he believed he had an 'oh s---' moment" when he realized he had been told to eliminate the archive months earlier and then did so belatedly. The New York Times has identified Paul Combetta as the employee.
At the hearing, Combetta, invoked his Fifth Amendment rights against self-incrimination when questioned about who requested the deletions.
Chaffetz also attempted to ask about an August 2015 e-mail between two unidentified Platte River employees discussing orders by Clinton aides to reduce how long the company retained archived material. In the e-mail, which was first disclosed in October of that year, one employee speculated that "shaddy" behavior was involved.
Combetta was eventually excused by the committee, as was Platte River employee Bill Thornton, who also invoked his Fifth Amendment rights.
'Not Comfortable'
The committee spent most of its 2 1/2-hour hearing interviewing Cooper, the former Bill Clinton aide who told the FBI he helped the server's users, including Hillary Clinton, her aide Huma Abedin and other aides to the former president.
Sitting alone at the witness table, Cooper spoke about discovering unsuccessful attempts to log into the server -- he briefly shut it down twice because of concerns it was being hacked -- its security features and his destruction of two BlackBerrys once Clinton stopped using them, as detailed by the FBI.
Cooper, who didn't hold a security clearance, said his purpose "was not in any way to destroy or hide any information at all," and that he made sure that "all of the information from the previous device would have ended up on the new device."
While he said he "did not have any concern" about sensitive information being on Clinton's server, he told one Republican questioner that "I would certainly agree with you that this is something we should all be concerned with."
Several committee members thanked him for for staying to testify after others refused.
"I appreciate your being here, subjecting yourself to questions before Congress," Chaffetz said. "It's not a comfortable thing."
Before it's here, it's on the Bloomberg Terminal.
LEARN MORE