business
Brexit Bulletin: Mr Brexit Says 'Yes We Can'
David Davis gives another upbeat assessment. Banks, not so much.
By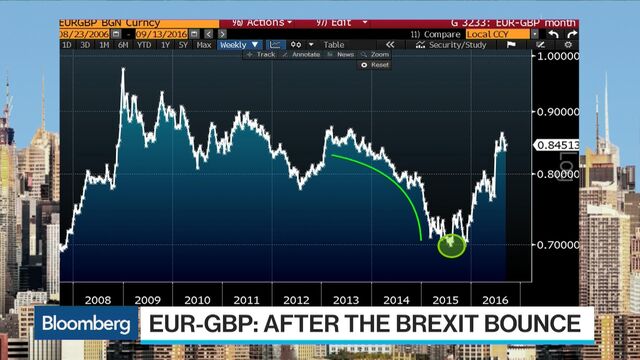 Sign up to receive the Brexit Bulletin in your inbox.
Not only can the U.K. get out of the European Union within the two years dictated by Article 50, but it can also cement a new trading relationship with the bloc, according to Brexit Secretary David Davis.
In an upbeat assessment on Monday, Davis countered the warnings of former Deputy Prime Minister Nick Clegg, among others. "Can we complete in two years?" he told a House of Lords panel. "I think we can, but we're going to have to be nimble, fast and responsive. I'm wary of anything that ties our shoelaces together."
Davis, who will also testify today in Parliament, added that the period before Article 50 is triggered "will be a rather frustrating time because we won't be saying an awful lot."
"We will be setting out guidelines" but "won't be giving a running commentary," he said.
Separately, Chancellor of the Exchequer Philip Hammond yesterday met with executives from Honda, Airbus and other companies to promise he will do all he can to ensure British business remains globally competitive.

Banks Differ
Barclays Chief Executive Officer Jes Staley predicted a "shallow, limited" economic slowdown as a result of the Brexit vote. Speaking at a banking conference in New York, he said Barclays is "not unduly pessimistic" about the U.K. after Brexit and sees no reason to adjust its strategy, he said. He also praised the Bank of England for its response to the referendum shock.
By contrast, JPMorgan CEO Jamie Dimon said yesterday he remains "significantly concerned" about Brexit. Citigroup downgraded HSBC after a "great summer rally," because of Brexit fears.
Tuesday saw Manpower report that financial services employers were less optimistic about the outlook for hiring. 
Scots to Remain
Britain's decision to leave the European Union failed to boost support for Scottish independence, with more voters still opposed to a split with the rest of the U.K., according to the latest poll.
The survey by Kantar TNS found 47 percent of people in favor of sticking with Britain and 41 percent backing independence. After excluding the 12 percent of respondents who were undecided, the gap was 53 percent to 47 percent, similar to polling before the June 23 Brexit vote. 
The poll may disappoint First Minister Nicola Sturgeon. After every region of Scotland voted against Brexit, she said another independence vote was "highly likely." 
Property Pickup?
Is the turmoil that triggered spasms in the property market subsiding?
Yes, suggests the decision by Columbia Threadneedle Investments to reopen its U.K. Property Fund on Sept. 26. It closed after a surge in withdrawal requests prompted a halt in trading in July. 
House prices also edged up in August, according to Acadata and LSL Property Services.
No, if you follow the line in a Deutsche Bank note on Tuesday suggesting that the London office market still has a way to fall. Analysts wrote:
"We see the potential for vacancy rates to increase to previous peaks, driving a downturn... We also see the potential for a negative Brexit outcome to structurally impair the attractiveness and long-term trend demand of London."
Meanwhile, the clean-up of distressed real estate assets slowed in Europe as deals were delayed by investors concerned about the Brexit vote, according to Evercore Partners. Soured loans and troubled assets totaling 24.4 billion euros ($27.4 billion) were sold in the eight months through August, a drop of 39 percent from the same period in 2015, the merger advisory firm said. 
On the Markets
The pound halted a two-day advance against the euro as a report unexpectedly showed U.K. inflation was unchanged in August. At the same time, more signs emerged of imported price pressures because of weaker sterling.

European equity markets staged a modest recovery, following the strong Monday showing in the U.S.

And Finally...
Former Prime Minister David Cameron announced he was resigning as a member of parliament. It left a man who won a general election only 16 months ago as a former politician. Several of the U.K.'s national papers didn't pull their punches in response, including the Daily Mail:
Others were equally caustic, including Tim Bale, professor of politics at Queen Mary University of London.
"Whatever he does, whatever he says, from now on Brexit will be on his gravestone. Had he not lost the referendum, had that one huge thing not gone wrong, we'd be seeing him in a completely different light. This was a man who took the party some way into the 21st century, though this now looks like it wasn't a permanent move."
Cameron hasn't said yet what he'll do next, and he is now a member of a very small club of living former prime ministers. He may want to take a look at Lisa Fleisher and Siraj Datoo's review of how his predecessors have fared in the private sector.
For more on Brexit follow Bloomberg on Twitter, Facebook and Instagram, and see our full coverage at Bloomberg.com
Before it's here, it's on the Bloomberg Terminal.
LEARN MORE