Bond-Market Selloff Deepens as Money Managers Pile Into Cash
By
BofA investor poll shows net 54% say stocks, bonds overvalued

Ten-year Treasury yield reachest highest in three months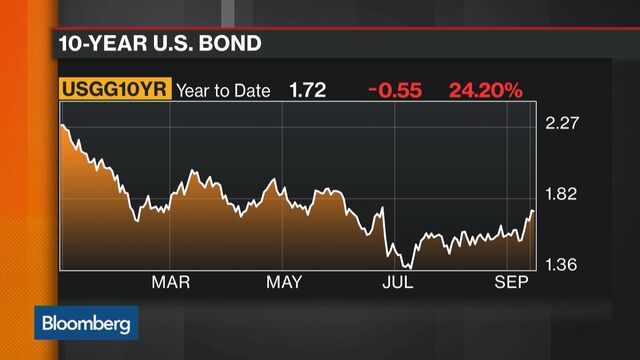 Treasuries fell, driving 10-year yields to the highest in three months, as a Bank of America Corp. survey showed investors ramping up cash holdings to near the highest in 15 years.
Longer-dated securities, which have been outperforming in recent months, led losses. The difference between yields on Treasuries due in two and 30 years, a gauge of the yield curve, widened to 166 basis points, the most on a closing basis since June. Fund mangers upped their cash hoard to 5.5 percent, according to the September survey by Bank of America, near the highest since 2001. A record 54 percent of respondents said stocks and bonds are overvalued.
After more than two months of market calm post-Brexit, volatility is surging amid concern that central bankers globally are reconsidering extending monetary stimulus that's driven yields to unprecedented lows. A lack of commitment to extend their easy money policies threatens bond bulls who face the potential for higher interest rates in the U.S. by year-end.

"There is a new theme that central banks are sort of at the end of their rope," said Thomas Roth, senior Treasury trader in New York at MUFG Securities Americas Inc. "There is concern the banks could pull away" from the policies that have backstopped demand.
The yield on the benchmark 10-year note rose six basis points, or 0.06 percentage point, to 1.73 percent as of 5 p.m. New York time, according to Bloomberg Bond Trader data. The price of the 1.5 percent security due in August 2026 was 97 30/32.
Elliott Management Corp.'s Paul Singer, speaking at the CNBC Institutional Investor Delivering Alpha Conference Tuesday in New York, said investors should sell longer-term bonds to avoid being caught by inflation that may "blow through targets." Singer warned that even the debt of Group of Seven nations wasn't a safe haven in the face of price growth that may catch markets by surprise.
His comments come after Federal Reserve Governor Lael Brainard's speech Monday further convinced traders that a rate hike by the Fed won't occur until December at the earliest, and sparked concern that policy makers would let the U.S. economy run hot. Stubbornly low inflation has been a factor in the Fed's decision to stand pat on rates so far this year.
The U.S. Treasury's $12 billion auction of 30-year bonds Tuesday drew a yield of 2.475 percent, above the level indicated in pre-sale trading. The bid-to-cover ratio, at 2.13, is down from 2.33 in the last 10 sales, signaling weaker demand. Primary dealers, which are obligated to bid at auctions, took 37.5 percent, the highest since August 2015. Meanwhile, direct bidders, investors who place bids with the Treasury, purchased 4.6 percent, the least since September 2009.
The Bank of America global fund manager survey was conducted Sept. 2 to Sept. 8. More than 170 participants with a combined $486 billion in assets responded, according to a report the Charlotte, North Carolina-based bank published Tuesday.